Spring is an amazing time to introduce your younger children into some fun craft activities. There's so much inspiration to get their minds thinking creatively and those fine motor skills developed.
Whether it's something floral to celebrate the budding plants, or a beautiful sun, or butterfly and bee art, these easy spring crafts are a fun way to either rejoice in the beauty of spring or just pass the time on a rainy day before the summer rolls around. And while these are all aimed at toddlers, kids of all ages can have fun trying out some of these easy crafts.
Great Spring Crafts for Toddlers
This post contains affiliate links. Please see our disclosure for more details.
Egg Carton Tulips
What's great about this craft is that the end result looks amazing, despite it being quite an easy craft to make. Your toddler can definitely handle it with a little bit of steer from yourself. And they'll be left with some beautiful flowers to play with or just place in a vase.
What you'll need:
Tissue paper
Egg carton
Pipe cleaners
Glue
Optional water bottle vase
Knife or scissors
Salt Tulips
This one is more of a painting flower craft, but what makes it so fun is the addition of salt. Toddlers love to paint but they adore textures too. By using salt in the painting you get a picture they can be proud of, and once they're done they'll want to keep proudly stroking it for hours.
What you'll need:
Paper
Paint and brushes
Salt
Butterfly Nature Craft
What better way to celebrate Spring than a combination of butterfly crafts and actual nature? This is a really fun craft that you can use to teach your younger child about some of the amazing colors and textures of spring, but it's also super-simple. Why not use this craft to help show your child what's safe to pick and what's better left alone?
What you'll need:
A printed butterfly template
Somewhere to pick up loose leaves, flowers and more
Glue or tape for sticking
Scissor Skills Flowers
As long as you only use craft scissors designed for younger hands, teaching your toddler some basic fine motor skills using scissor crafts is a great way for them to understand how to have safe fun. And this couldn't be a better craft for introducing them to scissors since all they need to do is make a few simple straight cuts. Easy.
What you'll need:
Cupcake liners
Kid-friendly scissors
Glue
Paper
Pen or crayon for the rest of the flower
Spring Flower Potato Painting
You can't beat using a novelty painting tool like a potato if you want fun spring crafts to fill your toddlers' time on those April showers days. You've probably heard of potato stamp crafts before, but just using them as a paintbrush is also super-fun – you get some amazing textures from the uneven surface which they'll love experimenting with as they paint beautiful spring flowers.
What you'll need:
Paper
Paints
Potatoes
Cupcake liners
A knife
Paper Plate Bees
Turning paper plates into bees is super-cute, but also surprisingly easy. If you can get some yellow paper plates then it's a much easier craft, but if not then you've got two separate activities – painting the plates yellow, and then assembling the bee. These are sure to brighten up any rainy day.
What you'll need:
Paper plates
Yellow paint (if the plates are a different color)
Black paint
Clothespins
Pompoms
Googly eyes
Glue
Rainbow Rain Art
This is such a clever idea, combining the classic rainbow crafts with actual rain for a really fun effect. Instead of hiding from the April showers you're actually incorporating them into your craft activities – your toddlers will love it. It also means there's no need to stay in the lines when coloring, since it'll all run anyway.
What you'll need:
A template to color
Non-permanent coloring pens
Some rainy weather
Handprint Sun Art
What's great about this craft is how you can tailor it to different age groups. For toddlers, let them have fun painting the sun, and then get them to make handprints – they'll love getting messy – which you cut out. Older siblings could join in to cut the hands out instead, bringing the whole family together.
What you'll need:
Paper plates
A black pen
Yellow paint
Yellow and orange paper
Scissors
Sparkly Spring Tree Craft
Young children will no doubt be fascinated by the beautiful sights of the first spring blooms. Help them recreate it with this fun tree art. It's another great option for involving older siblings too, as they can cut out the tree (or you can do it), before your toddler has fun sticking shards of paper blossom in place.
What you'll need:
Brown paper
White paper
Pink paper cut into shards
Glue
Glitter (optional)
Puffy Paint Clouds
Messy crafts are some of the most fun and this is a great way for your toddlers to get hands sticky and make something really cute. You can also tie it into some outdoor time – go for a cloud-spotting walk for some inspiration first, and they'll then absolutely love recreating it when they get home.
What you'll need:
Blue paper
Shaving cream
Glue
Cotton balls or sponges
Tissue Paper Rainbows
This is a great craft for refining those fine motor skills, helping your kids to match colors, and helping them create something that's super bright and looks amazing. Of course your toddler might decide not to follow the guide lines you draw – and that's fine! Let them embrace their creative soul.
What you'll need:
Paper plates
Colored pens
Tissue paper to match the colors
Glue
Little Lamb Craft
Spring is lambing season and so help your younger one make a fun and fluffy baby sheep with this simple craft. It's one where they can do most of the work once you've cut out the body shape for them, but in the end they'll really feel like it's something they made and they'll be so proud of their new pet.
What you'll need:
Card
Cotton balls
Glue
Googly eyes
Fingerpaint Butterflies
Who doesn't love fingerpaints? Well toddlers certainly do and it's a great way to make some beautiful and totally unique butterfly crafts. Just make sure you have a good-sized mat out and they're wearing an apron because this one will get very, very messy.
What you'll need:
Butterfly templates
Finger paints
Pegs to hang the finished butterflies
Coffee Filter Flowers
One of the best ways to entertain a toddler with crafts is to keep the project simple. Something that only needs one or two steps to look like the finished article will help keep their interest throughout. And coffee filters are ready made flower that just need a bit of paint – easy.
What you'll need:
Coffee filters
Paints
Paper for the background
Glue
Leaf Heart Card
Another way of bringing nature into your craft sessions is by using leaves. And any heart crafty things are great for toddlers too since the shape is so recognizable. If you can hunt out any foxglove or lime trees then you'll have ready-made hearts that just need painting and sticking.
What you'll need:
Leaves
Paint (optional)
Card
Glue
Spring Toilet Paper Roll Animals
This is a super-cute craft that can be a lot of fun, although it's one of those that you'll need to do some prep work for first. Make sure you have all the elements ready to go (again, ideal for involving older children) and then give your toddler the task of assembling their animal and sticking them together. From chicks to rabbits they'll have tons of fun.
What you'll need:
Toilet paper rolls
Paint
Cotton wool and pipe cleaners (optional)
Pens
Glue
Rain Cloud
This toddler craft is a great sensory experience. You've got the crinkle of the paper plate, the soft and fluffy cotton balls and the string. Once it comes together you can have fun singing your favorite rainy day songs too, waiting for the sun to shine again.
You'll need:
Paper plates
Cotton balls
Card
String
Paint
Glue
Easter Chick Fork Painting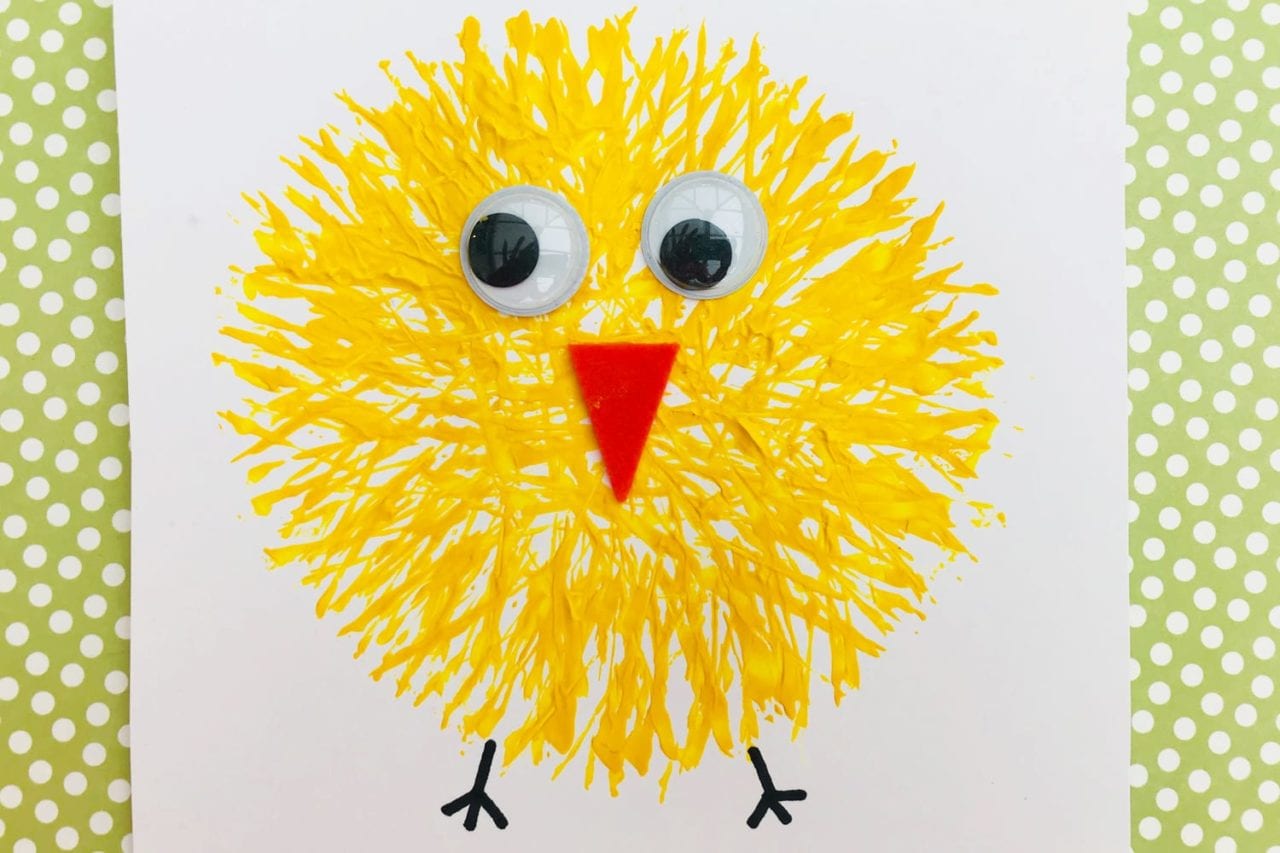 The best spring crafts are simple and fun, and painting with a fork ticks both of those boxes. Your toddler can go wild with their scraped painting, and then at the end a couple of simple additions will transform it into a beautiful easter chick.
What you'll need:
Yellow paint
A fork
Googly eyes
A felt triangle for a nose
Pen

Conclusion
There are some really great options for spring crafts that your toddler will adore. One or two might need the help of an older brother or sister (or yourself) but most are things they can make all on their own, keeping them busy during those rainy days and teaching them about how amazing spring really is.
SPRING CRAFTS FOR TODDLERS