You'll find a wealth of great gift ideas on Etsy. Where else can you buy everything from personalized water bottle labels to paper apples made out of comic books? Yes, Etsy's the place to go for the most quirky and original gifts.
When it comes to finding Mother's Day gifts, you'll find all the most unique ones on Etsy.
RELATED: Gifts for Moms Who Have Everything They Need
Want something Mom's never seen before? Read on for some of the most unique Etsy gifts for Mother's Day.
This post contains affiliate links. Please see our full disclosure here.
Mom, Thank You for Helping Me Grow
Have you got a plant mom that you'd like to thank in your life? This one is for them!
*Be forewarned- the plant is not included.
This hand-painted pot was made with all your plant-loving mommas in mind. This "mom, thank you for helping me grow" planter will definitely put a smile on their face!
Best from?
Kids or adult children. This would make a great gift from anyone to any mom.
Budget?
Medium. These pots are hand painted to order.
Order in advance?
Allow 2-4 business days to get your planter pot.
Wood Burned Handwritten Personalized Cutting Board
If you are someone who loves giving a gift that is unlike any other, a recipe cutting board is the perfect idea.
Your handwritten recipe is burned via hot tipped into the cutting board of your choice. Even if there are splotches or hard to read words- this gift will make the recipe look like new again.
Every board is a piece of unique art.
If you want something truly special, dig out your mom's favorite recipe and have it transferred to one of these cutting boards for her.
Best from?
Anyone. These cutting boards make a beautiful, unique gift that anyone can give to mom.
Budget?
High. A lot of work goes into a custom wood burned cutting board- be prepared for the price to reflect that.
Order in advance?
Yes, these take time to be made. Make sure to place your order 3-4 weeks in advance.
Personalized Paper Portrait Art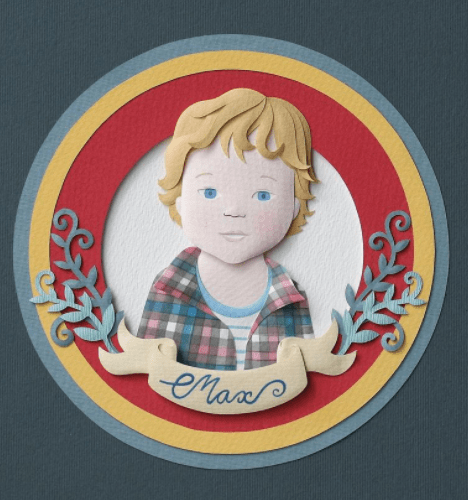 You'll find a whole lot of personalized art on Etsy. A gorgeous hand-drawn sketch is a great idea, but for something truly unique why not choose paper art?
Custom portraits carefully cut from sheets of paper are incredibly effective. The craftsmanship's something to be in awe of. Paper crafts really stand out!
A custom paper portrait can feature one or more children, or the whole family including adults and pets. The bright colors, bold shapes and cute cartoon features make these pictures a perfect addition to any blank wall.
Best from?
Children. These are really cute gifts from one or more children, but probably less likely to be as appealing if they're a gift from an adult. We love the idea of a paper portrait that features the whole family, or one or more children without the grown-ups involved.
Budget?
High. A lot of work goes into a custom paper portrait, so be prepared for a high price tag when compared to other Mother's Day gifts.
Order in advance?
Yes. It'll take at least a month for your paper portrait to be made, so only choose this as a Mother's Day gift if you've remembered to order in advance.
Mini Me Keychain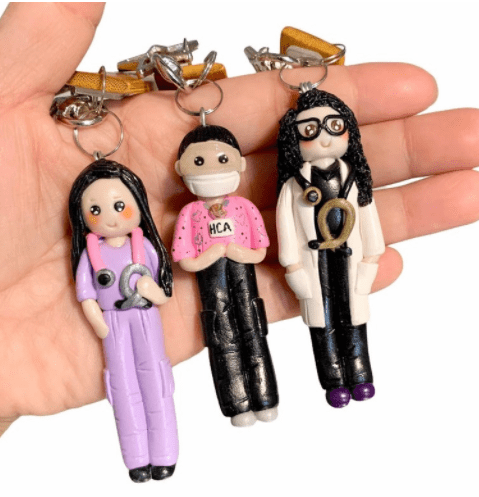 Turn your mom into a tiny version of herself that she can carry around on her keys. Or, make yourself miniature so you're always with her as she drives her car around town.
A Mini Me keychain is a gift that mom will never have seen before, and it's amazing how many cute and notable details will fit into a 3″ tall polymer clay figurine.
With this personalized Etsy gift, you'll be right by mom's side even if you're many miles away.
Like a lot of Etsy gifts, a personalized figurine will take some extra time to make. When you buy unique Etsy gifts, ideally place your order at least a month before you need them. Busy times, like Mother's Day, can make things take even longer. The earlier you can place your order, the more likely it is to arrive in plenty of time. Just remember not to dye your hair once you've made the decision about what hair color your figurine should have!
Best from?
Anyone. These little personalized figurines can be made in anyone's likeness, and their just as great as a gift from an adult as from a younger child.
Budget?
Low. When you consider that you're getting a unique custom gift that's been handmade to your specifications, you'll be very impressed by the fair price charged for this product.
Order in advance?
Yes. Order your keychain at least a month before you need it. These items are handmade, with fiddly details like little accessories and eyeglasses.
RELATED: 15 Personalized Gift Ideas for Mom That are Meaningful
Personalized Heartbeat Necklace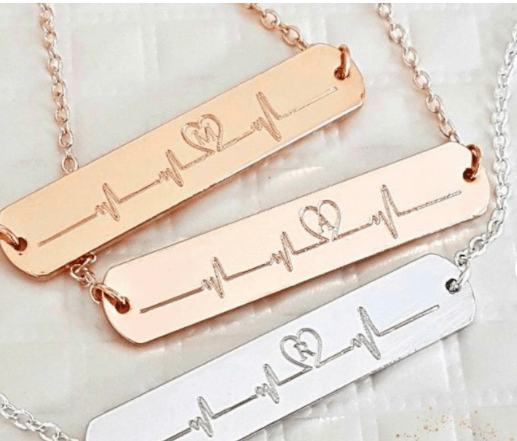 A mom's heart beats for her children. A personalized heartbeat necklace brings that sentiment to life, with a small metal bar that features the distinctive zig-zag shape of a heart trace curving up into a heart that's engraved with a single initial.
Put a child's initial on a personalized necklace, and it goes from a simple piece of jewelry to a beloved reminder of the strongest relationship of all. Any mom would love to wear a personalized necklace that keeps their child close to their heart.
Best from?
Anyone, though some adults might not like the idea of giving a gift that's engraved with their initial. If you want to skip the additional engraving, you can choose the same heart trace necklace without your initial in the middle.
Budget?
Low. You'll pay a little more if you want both sides engraved, and a little less if you don't want the initial included at all, but the cost remains low even with full engraving.
Order in advance?
No. These necklaces can be shipped to your door in just five business days, so these make great last-minute gifts that still have that personalized appeal.
Quilted Mug Rug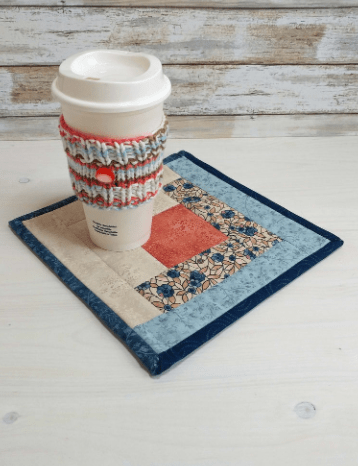 Does your Mom love her coffee a little too much? A quilted mug rug could be the perfect gift, because it's both pretty and practical. This is a great gift if you don't want something that literally screams 'Mother's Day'. Really, there's not a hint of 'love you, mom' on it.
If you buy a quilted mug rug, you won't just get somewhere for your mom to rest her favorite hot drinks. You'll also be purchasing a little cup cozy that wraps around the outside of her reusable hot drinks cup. Every time mom starts her day with a cup of coffee, or ends it with a hot chocolate as she watches the snow fall outside, she'll be thinking of you and how loved she is.
Best from?
Adults. Anyone can give one of these quilted mug rugs, but we like the idea of these as a gift from an adult to their older mom. After all, they're more likely to have time to sit down and enjoy a hot drink!
Budget?
Very Low. The price tag's so small for a handcrafted creation.
Order in advance?
No. Shipping can take up to 10 business days, so be prepared for a small wait but don't worry about ordering too far ahead.
'All About My Mom' Printables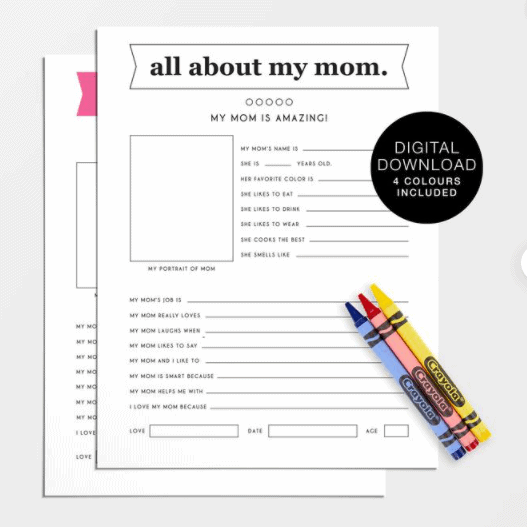 Mother's Day gifts don't need to cost a lot to be special, and totally unique. We love 'All About My Mom' printable sheets, that your child can fill in on their own.
You won't find more unique than a child's answers to questions like 'My mom smells like…?' and 'My mom is smart because…'! The answers will be treasured memories.
Obviously, 'All About My Mom' printables are best as a gift from younger kids. Still, if you're a grown adult and want to tell your mom she cooks the best butter tarts you've ever eaten then go for it!
Best from?
Small kids. They'll come up with so many fun answers, and it's these quirky responses that make this a gift to treasure.
Budget?
Very Low. You're paying for a digital download and you'll print the page yourself, so this is great as a low cost Mother's Day gift.
Order in advance?
No. You'll receive a digital download that's sent almost instantly. If you forgot it was Mother's Day, this last-minute gift could save the day.
Book of Coupons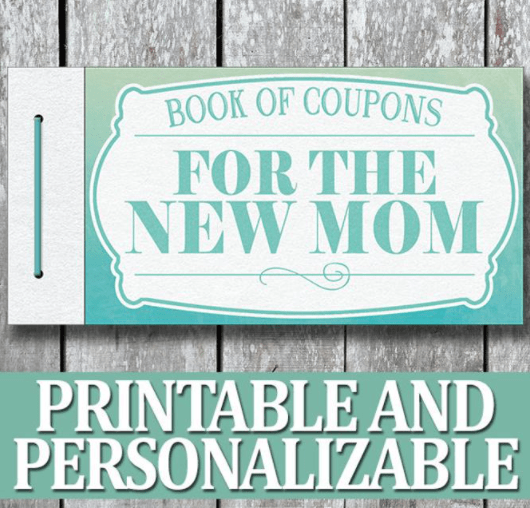 For mom's first ever Mother's Day, a book of coupons could be the ideal gift. Mom knows that it's too early for a baby to have chosen it's own gift, so a coupon book from a partner is a great alternative.
A printable book of coupons will entitle a mom to rare and wonderful treats – things like 'an hour of peace', 'meal delivery' and a 'clean room'. Can you even imagine?! This isn't just a fun unique Mother's Day gift, but also something practical that mom can rely on when she needs a bit of a rest.
If you're buying a new mom a book of coupons, just remember that you'll need to commit to actually actioning your promises. That mom's going to notice if those pieces of paper aren't backed up by actual spa days or an afternoon off!
Best from?
Babies (and the other parent!). A book of coupons is a perfect gift for a new mom, and it's a gift from her partner as much as from the baby itself.
Budget?
Very Low. You're paying for a digital download and you'll print the coupons on your own, so this is a budget Mother's Day gift (though you'll need to be prepared to pay for things like meal delivery, when mom cashes in!).
Order in advance?
No. You'll get access to an instant digital download. Printable coupons make a great last-minute Mother's Day gift.
Personalized Birthstone Cage Necklace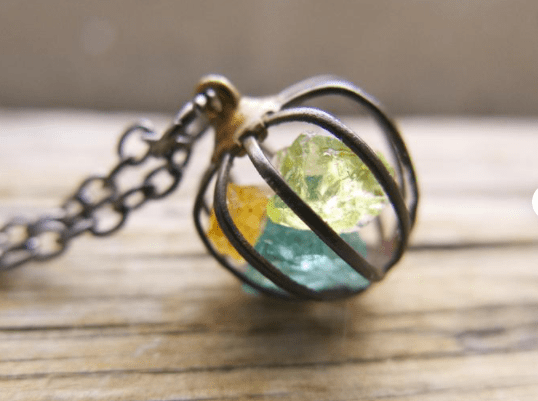 If mom's got more than one child, a personalized birthstone necklace makes a great gift from everyone at once. Once piece of jewelry is a symbol of her love for each and every one of her children, and each child is represented by a colorful stone that symbolizes her birth month. If mom carefully timed all her pregnancies so that birthdays were in different months, this will make for a very colorful accessory to wear around her neck! Well done, mom!
These personalized birthstone necklaces come in two different sizes, with the largest holding up to six different birthstones. Perfect for a bigger family!
Best from?
More than one child. These necklaces hold either 3 or 6 birthstones, and they look best when they're filled. They're a great gift for a mom of two or more kids.
Budget?
Medium. This isn't the cheapest Mother's Day gift, but you'd expect to pay more for a beautiful piece of handmade and personalized jewelry. There are lots of different options, so you can make changes until you're happy with the product and price.
Order in advance?
Yes. You're receiving a custom-made gift, so allow about a month for delivery.
Forever Roses or Eternity Roses