FATHER'S DAY CRAFTS FOR TODDLERS AND PRESCHOOLERS
If you're wondering "what can my toddler make for Father's Day?" Or even, "What are good homemade gifts for Father's Day?" this post has got you covered!
We've rounded up some really easy and cute Father's Day gift ideas that you and your toddler can make at home using every day items.
This post contains affiliate links. Please see our disclosure for more details.
All About My Dad
This All About My Dad printable pack would be perfect on its own or to add to a handmade gift or card! My kids get a real kick out of answering these questions- and you'll get a kick out of their hilarious answers 🙂
If you want one that includes grandpa, click here!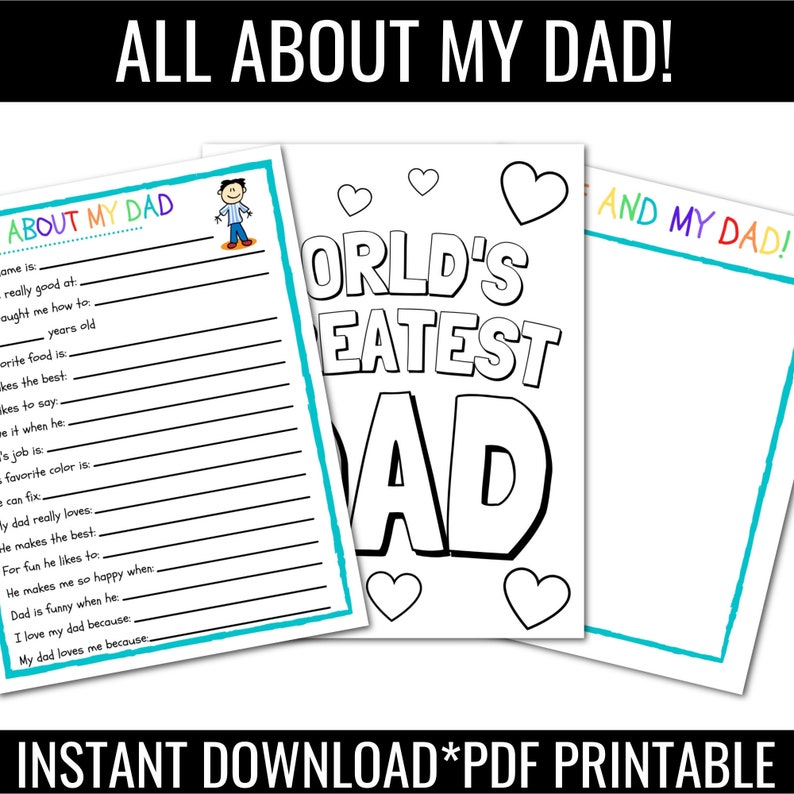 Footprint Rocket
Footprint crafts make great keepsakes- let dad frame this one and keep it forever!
You'll need:
Red cardstock
Small red pom poms
Light blue paint
Gold glitter foam paper
Gold glitter stars
Black Sharpie
Glue
Pom Pom Frame
Your kids will have fun getting to color the popsicle sticks and glue down the pom poms. You can have your child draw a picture or put a real one in!
You'll need:
paper
coloured pencils or crayons
lolly / popsicle sticks
pom poms
glue
magnet
RELATED: Easy and Fun 4th of July Crafts for Toddlers
I Heart Daddy Scribble Card
This is a great craft for young ones- they get to scribble over the letters to their hearts content.
You'll need:
Father's Day Fishing Card
This card is so cute! You could also say "hooked on you dad!"
You'll need:
Fish cut out
Tissue or crepe paper
Glue
Construction paper
Googly eyes
Marker
Papa Bear Craft
This craft involves cutting for mom or dad but your child can help glue everything on.
Supplies needed:
Different colored cardstock
Large pom pom to match the color of your cardstock
Large googly eyes
Black sharpie
Glue
Bear template
Baseball Handprint Craft
The baseball handprint craft makes a great last minute Father's day gift because it takes a minute to make and would accompany a card really well.
Supplies needed:
Baseballs (one for each child)
Ink pad
Baby wipes
More of a visual person? This video of Father's Day crafts will help!
I Heart Daddy Handrint Dish
This is a fun one to do for everyone- your littles can help shape the dish and paint it.
Supplies needed:
Clay
Paint in their favourite colour
Rolling pin
Paintbrushes
A pencil
Daddy Ties Father's Day Craft
The Daddy Tie is something you'll have fun filling out- their answers will be so funny!
Supplies needed:
The Daddy Tie print out
A marker
Following in My Daddy's Shoes
This is so cute and your kids will love using daddy's shoe and their own feet to create it!
Supplies needed:
Orange and brown paint
Daddy's shoe
Paintbrush
White card stock paper
Baby feet
Handprint Keychain
There's something so fun about watching these shrink in the oven. And these keychains will last a long time.
Supplies needed:
Shrinky Dink Plastic Sheets
Key Ring
Jump Rings
Gloss Acrylic Paint
Gloss Mod Podge
RELATED: Fun and Cheap Summer Activities for Kids!
Sharpie Scribble Mug
This craft is truly easy and ends up looking amazing. The kids can go crazy with the colors and scribbling and it'll look great!
Supplies needed:
White ceramic mug
Painters markers
Stickers
Love You to Pieces Father's Day Frame
Have any puzzles with some pieces missing? *guilty* Use some puzzle pieces to create this easy and adorable picture frame for daddy!
Supplies needed:
4 Popsicle Sticks
Puzzle pieces
Cardboard
Crayons/Paint
Camera
Glue
Heart Dad Fingerprint Craft
Fingerpainting is always an attractive activity for little ones- put it to good use for these "Dad" Father's Day cards.
Supplies needed:
Dad Template
Acrylic paint – blues, yellow, white, red, etc.
Silver cardstock
White paper
Scissors
Dad Rocks Paperweight Craft
Isn't this awesome? Have some collecting small rocks for the craft and let your children help to mix up the dough!
Supplies needed: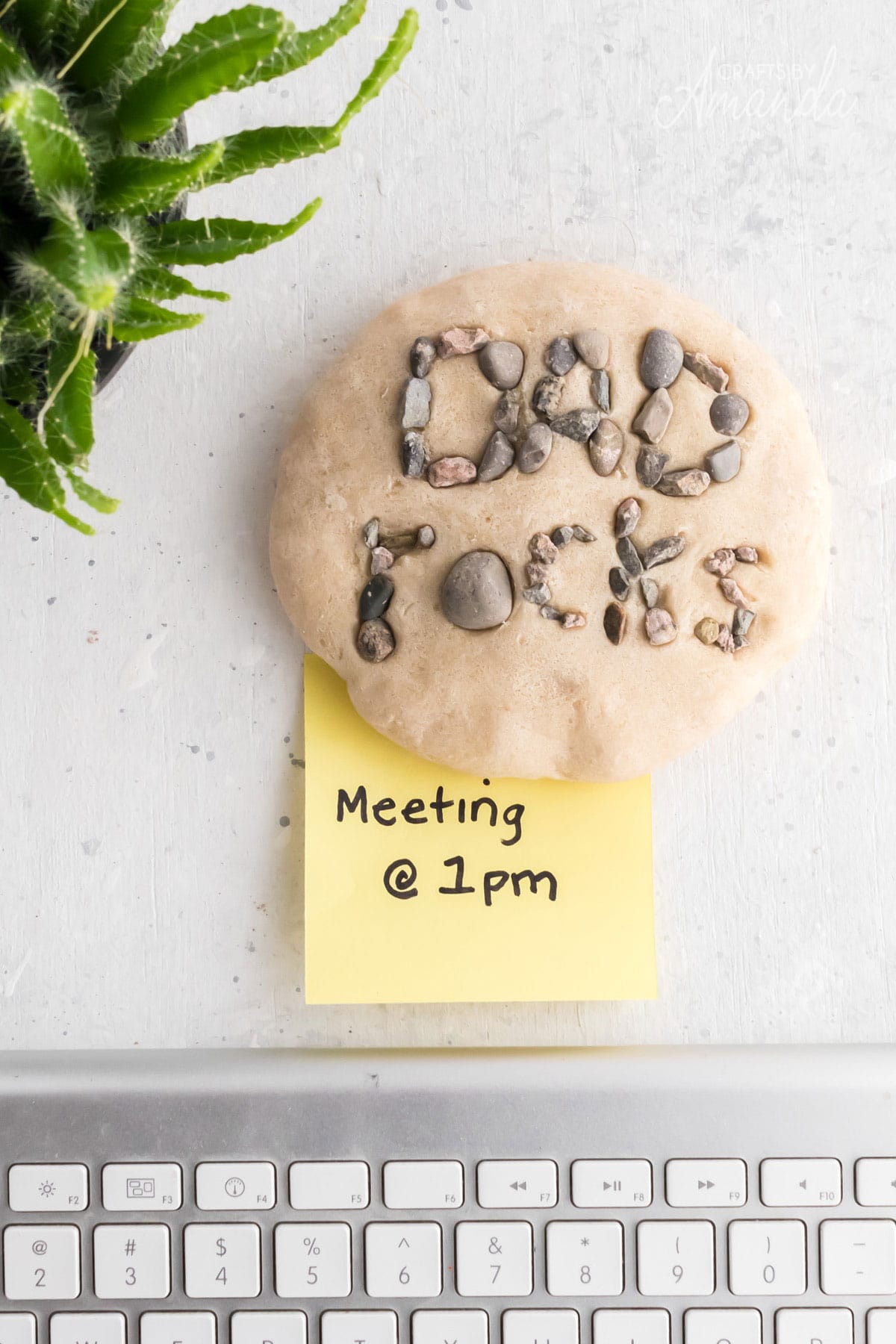 Salt Dough Keepsake
Salt dough makes for a great gift because you can shape and paint it however you want! Make a heart, a handprint or a footprint! Whatever works for you.
You'll need:
4 cups all purpose flour
1 cup salt
1.5 cups warm water
Paint
DIY Father's Day Book
More Father's Day Ideas:
Seriously Funny Father's Day Gifts (for those dads who want nothing)
Personalized Gifts for Parents
13 Unique Gifts For The Dad Who Wants Nothing
Easy Father's Day Crafts for Toddlers