Toddler to Preschool Age St. Patrick's Day Crafts
It's all kinds of fun having these types of holidays because you get to bust out the craft stuff with your kids! These St. Patrick's Day crafts are meant for toddler to preschool age and are perfect for little hands.
This post contains affiliate links. Please see our disclosure for more details.
Some are messier than others so do what works for you and your little one!
Happy St. Patrick's Day!
This post contains affiliate links. Please see our disclosure for more details.
Leprechaun Lookers
Put those old toilet paper rolls to good use and make some fun Leprechaun Lookers!
Supplies needed:
6 toilet paper rolls
Green Construction Paper
Glue Gun + Sticks
Scissors
Pipe Cleaners
4 Leaf Clover Stickers
Buttons
Hole Punch
String or Yarn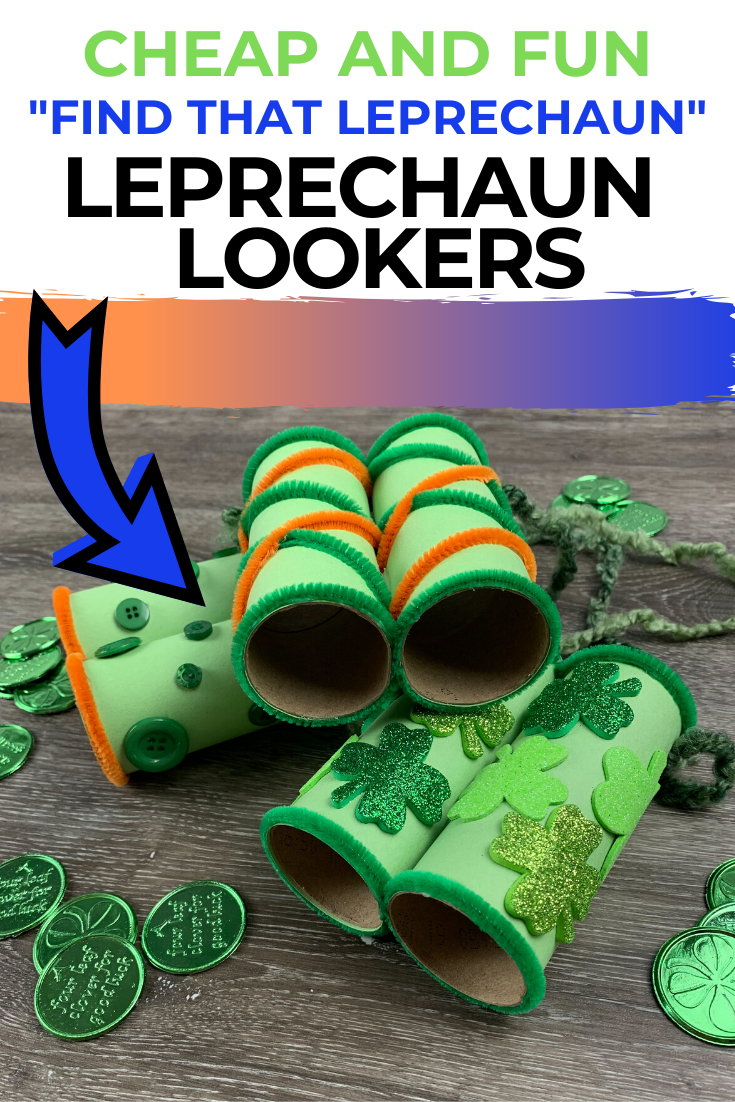 Cut and Paste Shamrock Coloring Page
The squares don't have to be perfect for this craft- let your toddler practice cutting (safely!)
Supplies needed:
Green construction paper, 2-3 sheets
Kids Scissors
Glue Stick
Shamrock Template Free Printable
St. Patrick's Day Sensory Soup
Although this isn't a craft, there is guaranteed fun to be had for little ones. Feel free to use whatever you have on hand and have fun with it.
Supplies needed:
Water
St. Patrick's Day themed plastic coins
Green liquid watercolor (you could use green food coloring as an alternative)
Kitchen utensils
Rainbow Binoculars
These rainbow binoculars are so cute and easy to make. And perfect for finding sneaky leprechauns this St. Patrick's Day!
Supplies needed:
Toilet paper rolls
Tissue paper or construction paper
Tape
Shamrock cut out
Streamer Rainbow
Shredding the cotton balls is something your littles ones might enjoy. And using glue, of course 🙂
You'll need:
Paper plates
Crepe paper or construction paper
Cotton balls
Glue
Shamrock Man
You may have to help with the cutting but your toddler can help with the gluing!
Supplies needed:
White paper
Green paper
Black marker
Scissors
Glue
Large shamrock template
Small shamrock template
Googly eyes (optional)
RELATED: Printable St. Patrick's Day Crafts for Kids of All Ages!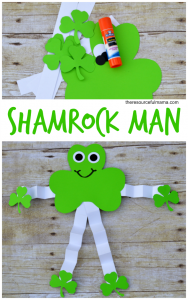 Leprechaun Handprint Craft
There's something so fun about tracing hands, especially for little ones. And even better when you turn that traced handprint into a leprechaun.
Supplies needed:
Construction Paper
Marker
Glue
Scissors
Optional: Googly Eyes
Clover Stamp Painting
This one is fun because you get to scoop out the insides of the pepper and dip it in paint!
Supplies needed:
Salt Dough Shamrocks
Mix up some salt dough, roll it out and have fun cutting out shamrock shapes for this craft.
You'll need:
Salt Dough
Shamrock cookie cutter
Liquid Food Colouring Green
Gold Ribbon
Handprint Shamrock Craft
Try your hand at this handprint shamrock craft. All you need is simple craft items and a pair of little hands.
Supplies needed:
Green and white craft paper
Green pipe cleaner
Glue
Pencil
Scissors
Leprechaun Snow
Other than gold coins, you should have all the ingredients on hand. This comes together quickly and makes a great sensory activity for St. Patrick's Day.
Supplies needed:
Baking Soda
Conditioner
Green Food Coloring
Gold Coins
Vinegar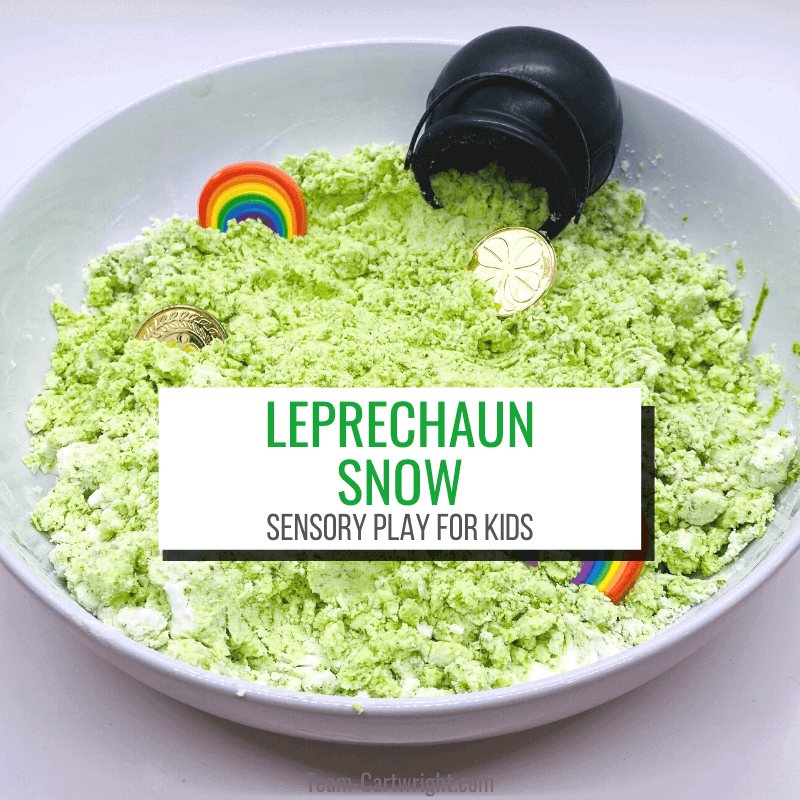 Rainbow Cereal Necklace for St. Patty's Day
This one doesn't need much explanation! Fruit Loops, string and marshmallows and you'll be on your merry way.
Shamrock Mixed Media Craft
Have fun decorating these shamrocks with all sorts of different shapes and textures.
You'll need:
Paint
Paintbrush
Bubble wrap
Black Marker
Cardboard
Sequins, Buttons, Glitter Etc.
Glue
Scissors
Leprechaun Paper Plate Craft
Supplies needed:
Small Paper Plates (these were 6 inch size)
Gold and Green Glitter Paper
Black Cardstock
Large Orange Pom Poms (these were 1 inch size)
Paint for the leprechaun's face. Here is a set with some different color options.
Pink paint for the cheeks
Black Sharpie
Googly Eyes
More Craft Ideas:
Easy St. Patrick's Day Crafts for Toddlers