When the temperature heats up, there's no better way to keep your toddlers cool and happy than by introducing some fun water activities into their day. It's a great way to make sure you spend time outdoors with your little ones without them overheating, and they'll love all the different ways they can splash and play.
This post contains affiliate links. Please see our disclosure for more details.
Often you don't need a lot of extras to make the most of your outdoor water play, so here are some fun water games and activities that you can enjoy on the next hot summer day with your kids.
Best water activities for toddlers
This post contains affiliate links. Please see our disclosure for more details.
Fill a bucket
Honestly, one of the simplest things you can do with toddlers is to just fill up a bucket of water. It can be as simple as that. They'll love to dip their fingers into it, they'll enjoy exploring the sensation of picking up water in their hands and letting it drip between fingers, and they'll laugh uproariously if they manage to tip it over. Easy, but effective. Add a couple of cups to let them enjoy transferring water back and forth too.
What you'll need:
Make a water table
https://www.pinterest.co.uk/pin/484559241127922665/
Water tables are interactive spaces with various different toys and gadgets that kids can use to enjoy splashing or soaking up water. You don't need to buy an expensive pre-made one, just DIY your own water table with an empty plastic storage box, a couple of items that float and a few other small things from the kitchen.
What you'll need:
A plastic storage box
Sponges
Cups
Floating toys
Start a water fight
What's one thing kids love more than getting wet? Splashing other people and getting them wet. Water fights don't need to be fought with expensive water guns, though if you can pick up a couple of cheap ones then go for it. Plastic cups work just as well though, or a spray bottle if you have one. Or why not make your own sponge water bombs? They're easy and effective. Older kids will love joining in with this one too
What you'll need:
Cups, or spray bottles, or water guns
Kitchen sponges
Elastic bands
Water balloon sensory play
When you think water balloons you probably think of the chaos of a water fight. But just fill a bucket or storage box with water balloons and you've got a great sensory toy. Young hands will love exploring the squishy sensations of the balloons – and you're sure to get a good giggle from them when one occasionally pops. If you've a larger container, they'll love sitting amongst the water balloons even more.
What you'll need:
A bucket or storage box
Water balloons
Create a tin foil river
Toddlers love to explore and understand the way the world works. How water gets from A to B is therefore fascinating, so create a simple tin foil river and you can absolutely mesmerize them. Add a toy boat and they'll love watching it sail down the garden.
What you'll need:
Aluminum foil
A hosepipe (for running water)
A toy boat (optional)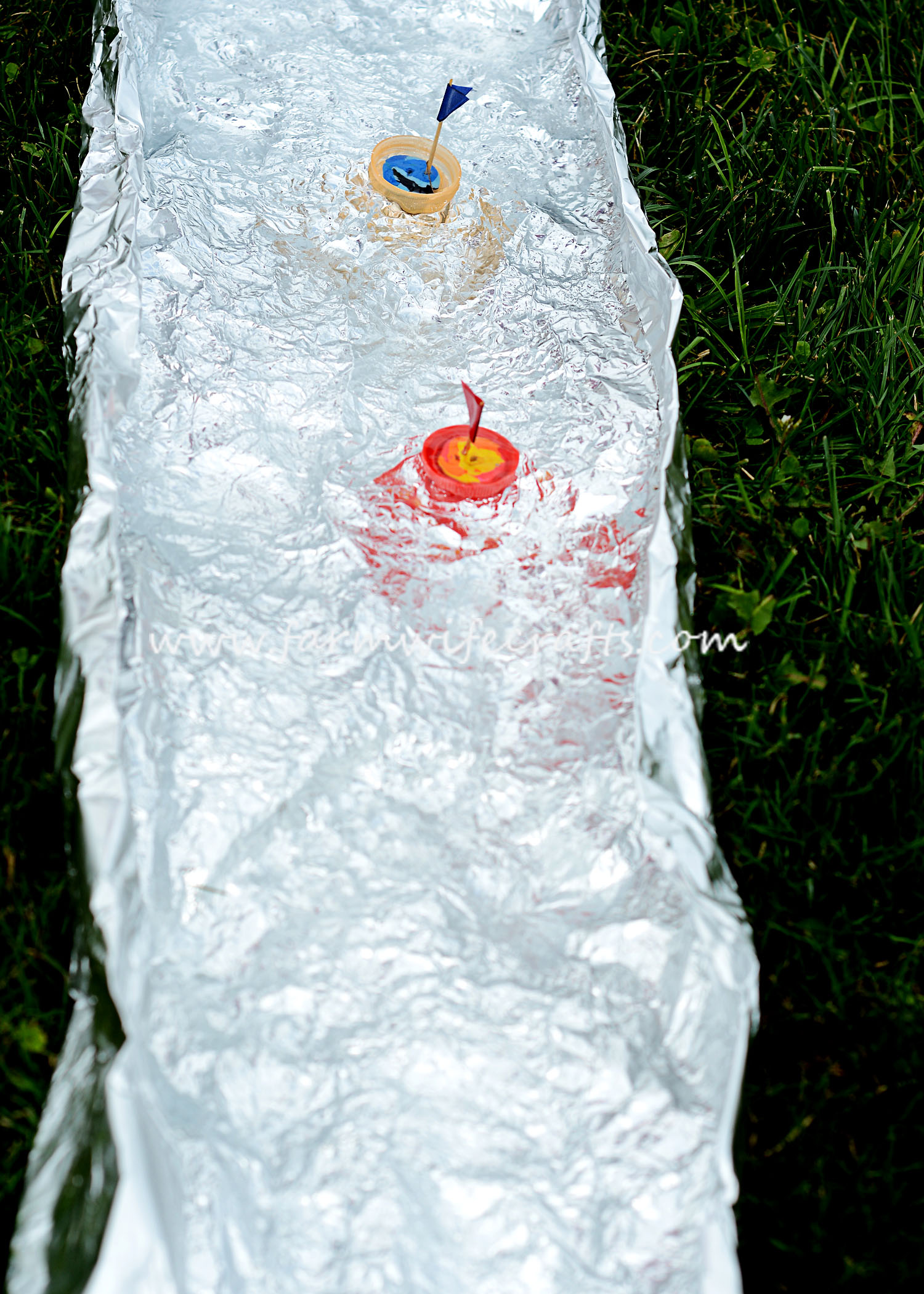 Fill a kiddie pool
One of the best ways for kids to cool off on a hot day is to jump in a pool. The great thing with toddlers is that you don't need a large expensive pool and a ton of water. Small kiddie pools are easy to buy cheaply and you don't need to fill them high for them to love splashing.
What you'll need:
A kiddie pool
A hosepipe, or a bucket and a lot of patience!
Fun with pool noodles
Pool noodles are cheap and super versatile. Add them to the kiddie pool or just let your child have fun putting the hosepipe against them. Once you've finished with the water fun, why not set up this great little outdoor activity which can help develop their motor skills too? Or you can cut them up to make fun little floating pool toys.
What you'll need:
Turn on the sprinklers
Ever seen the fun that kids have with spray fountains? Make your own at home with your garden sprinkler. You don't need a fancy sprinkler, you can pick up cheap attachments for a hosepipe quite easily, or use a pool noodle with a few holes poked into it! They'll love dancing through the spray.
What you'll need:
A sprinkler, or a hosepipe and sprinkler attachment or pool noodle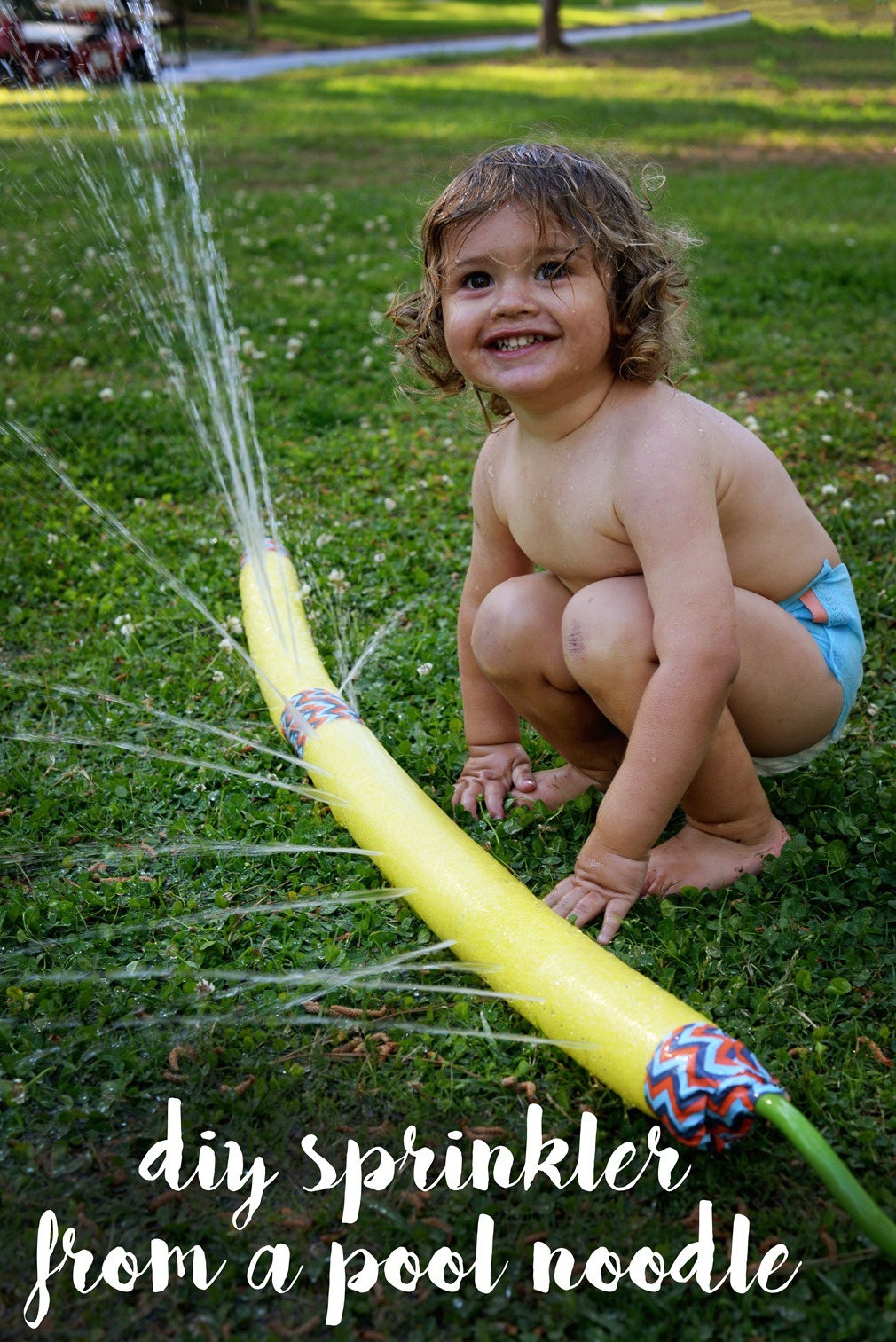 Make a pipe wall
One of the more advanced activities and you'll need to do some prep work yourself – get the older kids involved too maybe. You can use actual pipes or just empty soda bottles that you've cut holes into, and toddlers will love pouring water down it to see how it flows. Pool noodles are another great option.
What you'll need:
Pipes, empty bottles or pool noodles
Glue, staples or nails
A board to attach everything to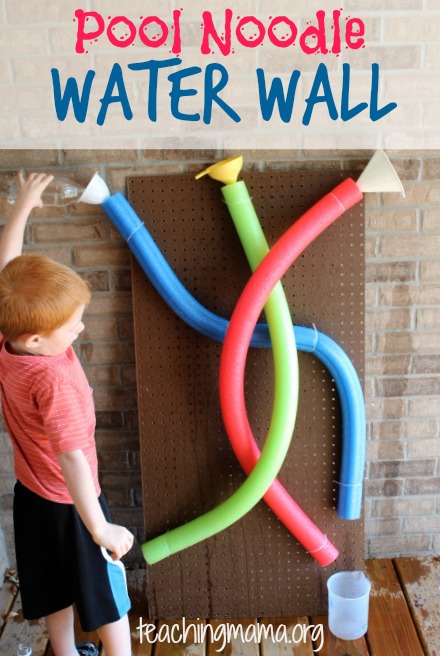 Hosepipe limbo
https://davonneparks.com/five-games-to-play-with-a-water-hose/
Super-easy, but hosepipe limbo is a great way to getting the kids active and experimenting with movement. And if your hand 'accidentally' slips down once or twice to soak them…it's just part of the fun, right? Another one that the older kids will definitely want to take part in too, doing 'proper' limbo while the toddlers just run underneath the stream.
What you'll need:
Hidden toy ice cubes
A fun way to get your kids to understand melting, and to help them cool off, is to freeze a couple of small toys in some ice cubes. Let your kids have fun working out how they can speed up the melting process to get to their toy – no doubt things will get very wet, but they'll love it when they succeed.
What you'll need:
Small (safe) toys
A freezer
Magnet fishing
https://rhythmsofplay.com/fishing-magnets-cool-science-kids/
You know those old toy fishing games that use a magnet on the end of a piece of string, and toy fish in a box? Well magnets work underwater too, so you can make a really authentic fishing experience for your younger kids to try. For toddlers make sure the magnets are nice and big, otherwise they might get a little frustrated. Shallow water works best too.
What you'll need:
A container
Plastic or vinyl cardboard fish (or just anything metal!)
Magnets
Fishing rods (sticks and string with magnets will do)
Number and letter sponges
Incorporating learning into your water play activities can really keep your little one engaged. Number and letter sponges are ideal. You can buy them pre-made, or just get creative and cut up some sponges yourself. Drop them in a kiddie pool and ask them to find a number or letter. They'll have fun splashing, and love getting the answers right too.
What you'll need:
A pool or container
Number and letter sponges OR sponges and scissors
Rubber duck game
Taking the idea of sponges to another level, you can have a lot of fun using rubber ducks for play. A great idea is to draw shapes on the bottom of the ducks (make sure you use non-washable pen), and then get your child to try to find a shape. They'll have fun guessing, and it'll help them develop memory skills as they remember which ducks they've already tried – providing they don't float around too much.
What you'll need:
A container
Rubber ducks
Non-washable marker
Water painting
Water painting is one of the best forms of painting there is – because there's no clean up needed! In all seriousness, your kids will love making artwork on your driveway or the sidewalk using a water bottle or a bucket and paintbrush. As long as you prep them for the 'magic' as it dries up, there won't be any tears about a lost toddler masterpiece.
What you'll need:
A bucket and paintbrush, or a water bottle
Mini water beds
These mini water beds take a little bit of prep work, but they're really easy to do. Your toddler can then sunbathe and have tons of fun as they wobble around – just be careful of letting them jump on them, which they're likely to want to try!
What you'll need:
Plastic sheeting
Duct tape
Iron
Parchment paper
Optional blue coloring and toys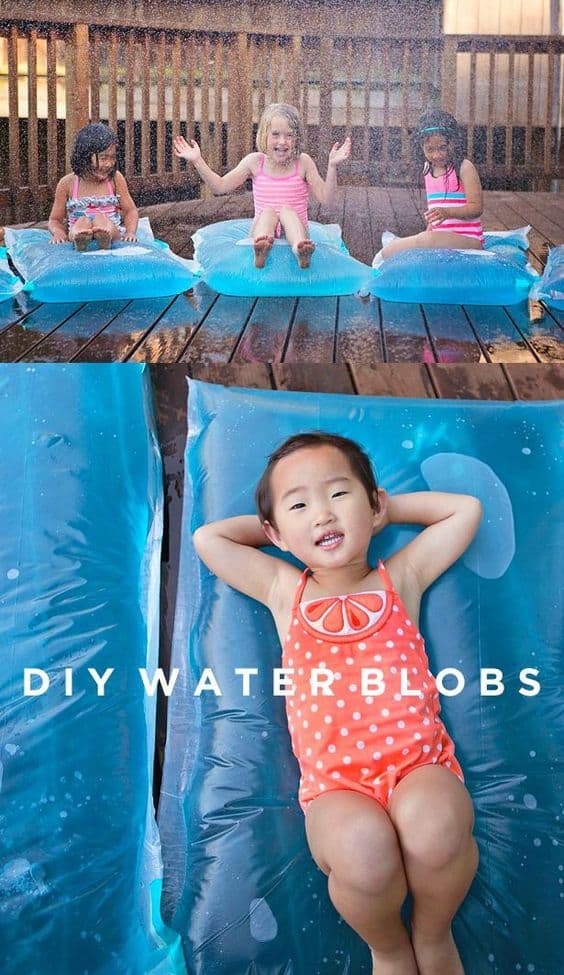 Conclusion
Whether it's learning about melting, having fun splashing around, or just taking it easy in a cooling pool, kids can have tons of fun with outdoor water activities, and they're just perfect for a hot summer's day when you want to make sure they don't get too upset by the heat. You'll have just as much fun getting involved too, making some really happy summer memories.
OUTDOOR WATER ACTIVITIES FOR TODDLERS THIS SUMMER