Looking for some easy Mother's Day crafts that a toddler can do? We've rounded up some really cute ideas that are perfect for preschoolers and little hands.
Mom will love getting one of these handmade gifts and they can be a keepsake forever!
This post contains affiliate links. Please see our disclosure for more details.
All About My Mommy
This All About My Mom printable pack would be perfect on its own or to add to a handmade gift or card! My kids get a real kick out of answering these questions- and you'll get a kick out of their hilarious answers 🙂
If you want one that includes grandma, click here!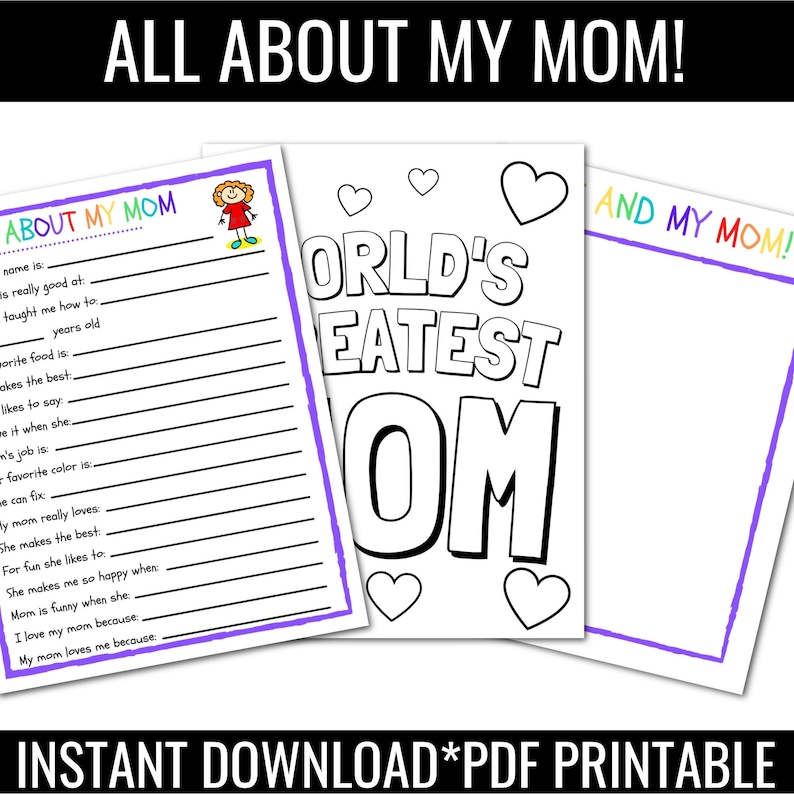 Fingerprint Heart
Your little one will love doing this craft. It involves paint, fingers and smushing said paint and finger onto a canvas.
Supplies needed:
Mini canvas and easel
Paint
Sticky back plastic/ contact paper
A heart shaped cutter to draw around
Mother's Day Dandelion Card
Using Q-tips and paint, your toddler can create this simple but beautiful Mother's Day dandelion card for momma.
Supplies needed:
Cardstock
Washable kids paint
Craft scissors
Q-tips
Permanent marker
Fine point permanent marker
RELATED: 10 Easy Flower Crafts for Toddlers
Handprint Flower Picture Frame
Create some memories (and giggles) by tracing your toddler's handprints for the flowers. Use a favorite picture for a cute keepsake.
Supplies needed:
Picture frame
White card stock
Pom poms
Pipe cleaners
Acrylic Paint & brush
Photo
Doily Vase Flower Craft
Your toddler can help paint the doily and glue the flowers together to make these super cute flower bouquets!
Supplies needed:
DOILY VASE FLOWER CRAFT FOR KIDS
9th February 2018 by Kate Williams 3 Comments
335
SHARES
Not going to lie, I am more than a little bit in love with this super sweet doily vase flower craft, it's super cute right? (Although is it a vase or a bouquet? Either works for me!) It includes doilys which are my new favourite super cheap material and it's perfect for spring or Mothers Day. And it's pretty – did I mention that? Ok, let's get on with how to make this easy flower craft.
doily vase flower craft for kids preschool
DOILY FLOWER CRAFT MATERIALS:
Doily
Watercolour paints
Craft sticks / popsicle sticks
Coloured card
Scissors
Glue
Pompoms
Monoprint Heart Cards
Your little one will have such fun painting these monoprint heart cards! You may need to help with cutting.
Supplies needed:
tin foil
paint sponge or roller
paint
Q-tip
white paper
mixed media paper
scissors
glue
black marker
Preschool Mother's Day Card
Have you ever tried creating pictures with tape? Get as messy as you want and the outcome will still look great.
Supplies needed:
Card stock
Painters tape
Stamp ink or fingerpaint
Butterfly Handprint Card
Supplies needed:
Colored Cardstock
Small Googly Eyes
Black Fine Sharpie
Pom Poms
Felt or paint for decorating the wings
Glue
Mother's Day Teacup Card
The flower in the center of this teacup craft is made with fingerprints making it extra special.
Supplies needed:
Teacup printable
Finger paints
Teabag
Mother's Day poem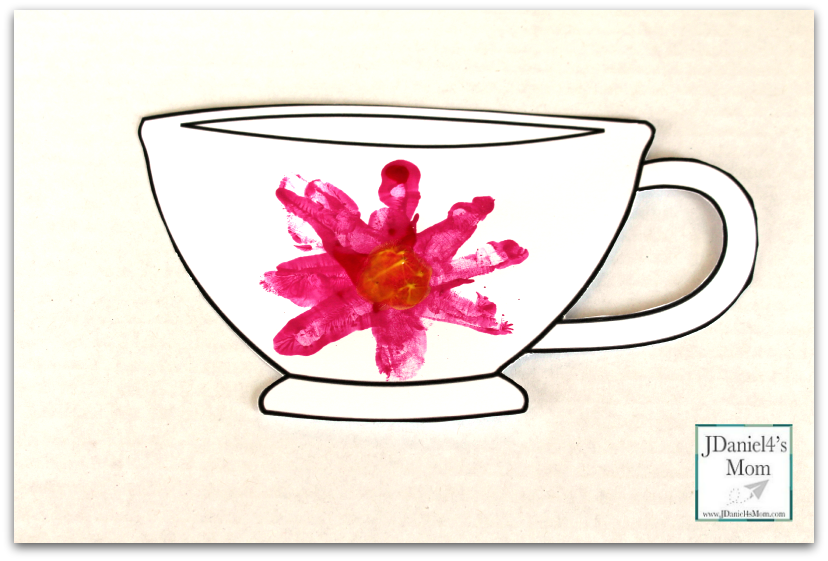 Handy Hand Towel
Handprints with fabric paint make this easy hand towel a perfect gift for Mother's Day.
Supplies needed:
Assorted fabric paints
Hand towel
Cardboard
Foam brush
Paper towels
Easy Coffe Filter Tie Dye Flowers
This one is great for toddlers because they just need to go crazy with the markers.
Supplies needed:
washable markers
coffee filters
pipe cleaners
pipette or spray bottle of water
used paper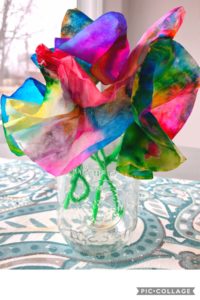 Salt Dough Fingerprint Keychain
Your toddler will love pressing their fingerprints in the salt dough and they might have fun stirring too!
Supplies needed:
One and a half cups of plain flour
Half a cup of table salt
One tablespoon of vegetable oil
Two-thirds of a cup of water
Star shaped cutter – ours is from the bottom of a measuring spoon but a biscuit cutter or something similar would be fine
Metal keyring
Pen / pencil
Heart Footprint Keepsake
This one is fun for everyone. And such a great memory- tiny feet and toes.
Supplies needed:
Salt dough
Acrylic paint
Tape
Sharpie
Handprint Lillies
Why is hand tracing such a hoot with toddlers? It always seems to incite giggles.
Supplies needed:
pencil
scissors
white and green paper
straws
yellow pipe cleaners
sticky tape
Paper Plate Mother's Day Craft
Little ones will love spreading the paint around with a pom pom and clothespin with this simple Mother's Day craft.
Supplies needed:
paper plate
paint
pom pom
wooden clothespin
contact paper
pencil
craft knife
black marker
Mosaic Dyed Pasta Craft
Let your toddler go wild with their design and create a beautiful mosaic for mom.
Supplies needed:
Clay
Small pasta dyed in various colors
Optional: clay tools, toothpicks, etc. for adding texture to your design
Handprint Flowers
Handprint crafts make for an easy craft and a very sweet memory.
Supplies needed:
Flower pot or vase template
White craft paper
Green craft paper
Yellow craft paper
Background paper
Green Paper Straws
Glue
Tape
Craft paint
Pencil
Easy Mother's Day Crafts for Toddlers