Looking for Santa Crafts for Toddlers?
This post contains affiliate links. Please see our disclosure for more details.
Keep reading as I have put together over 15 ideas to keep you and your toddler busy through the month of December. Many of these crafts will teach important toddler skills like fine motor skills, cutting, drawing and even some academic skills like counting.
When it comes to toddler crafts I like to KEEP IT SIMPLE, as toddlers don't have a very long attention span and I prefer crafts that they can complete without myself creating the whole craft! Toddlers love to get messy and create so we often do a lot of different Santa Crafts over the month of December, so I try to keep the cost of crafts minimal.
Creating Santa crafts together with your toddler will create lasting memories as you spend time together during the holidays! Plus you get to create fun Santa decorations to display around your house for the whole holiday season, and most of all inspire kids to get messy and be creative which is so important for their brains development.
Enjoy our list of the Best Santa Craft Ideas for Toddlers!
This post contains affiliate links. Please see our disclosure for more details.
Toddlers love sensory play and this sensory shaker bottle allows them to have a sensory experience without the mess.
Using a recycled water bottle you can create a shaker using rice and other fun holiday items. Kids love the sound that the rice makes when it shakes.
These printable preschool Christmas hats are perfect for any holiday concerts.
Simply print and allow the kids to make their Santa hat unique as they can add stickers, drawings or embellishments.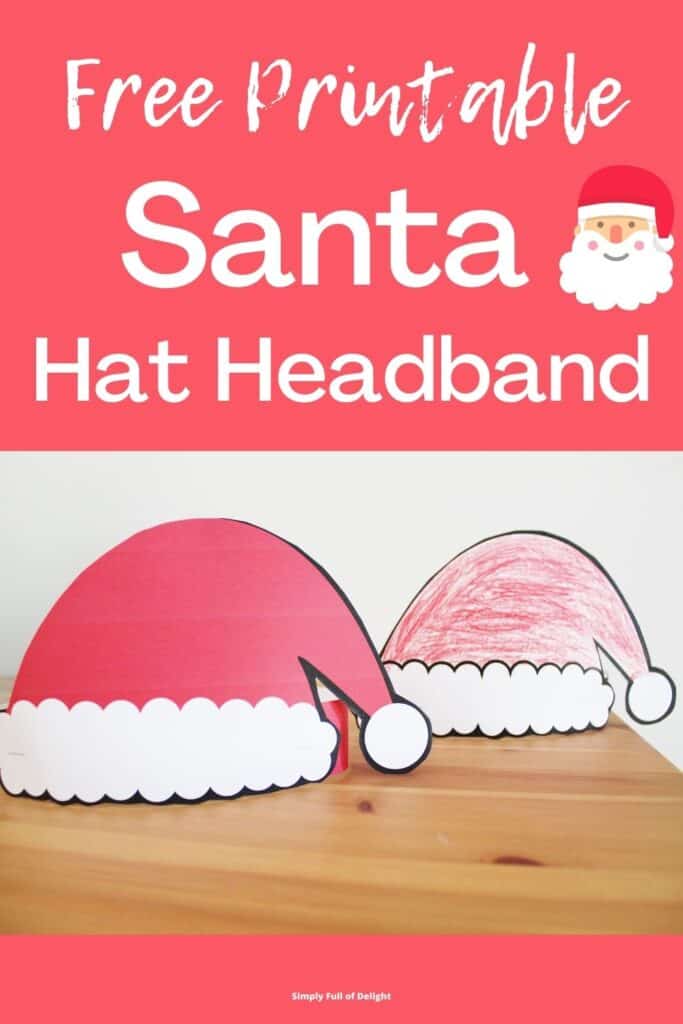 These fun paper plate Santa's are easy to make and not messy as they dont use paint.
Crayons are the best bet for toddlers as then you don't have to wait for paint to dry, and you can glue on the cotton ball beard right away.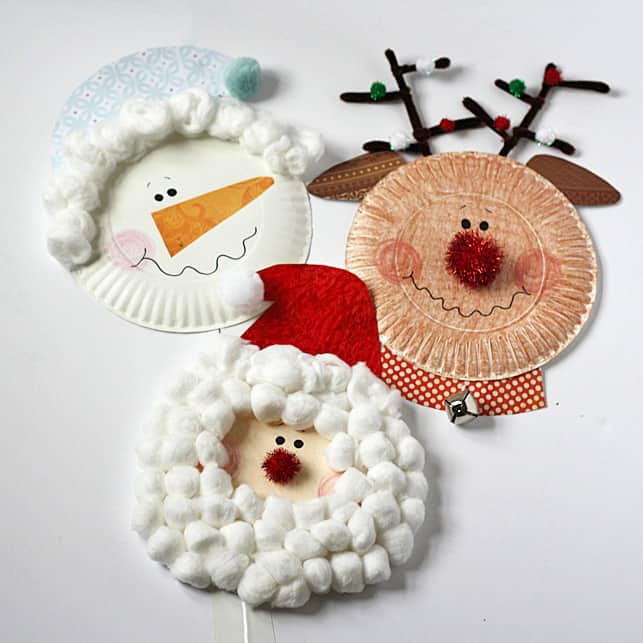 Create these fun Santa's out of paper tubes and create either table decor or an ornament. You can make multiple of these in only a few minutes making it a perfect toddler craft.
Use the free template to print the pieces on red paper then cut out, or print on white and have the kids color the pieces in themselves.
Create a simple triangle out of painted red popsicle sticks and add a cotton ball to the top to complete Santa's hat.
Simple handmade Christmas cards that you can print and let your toddler color and design.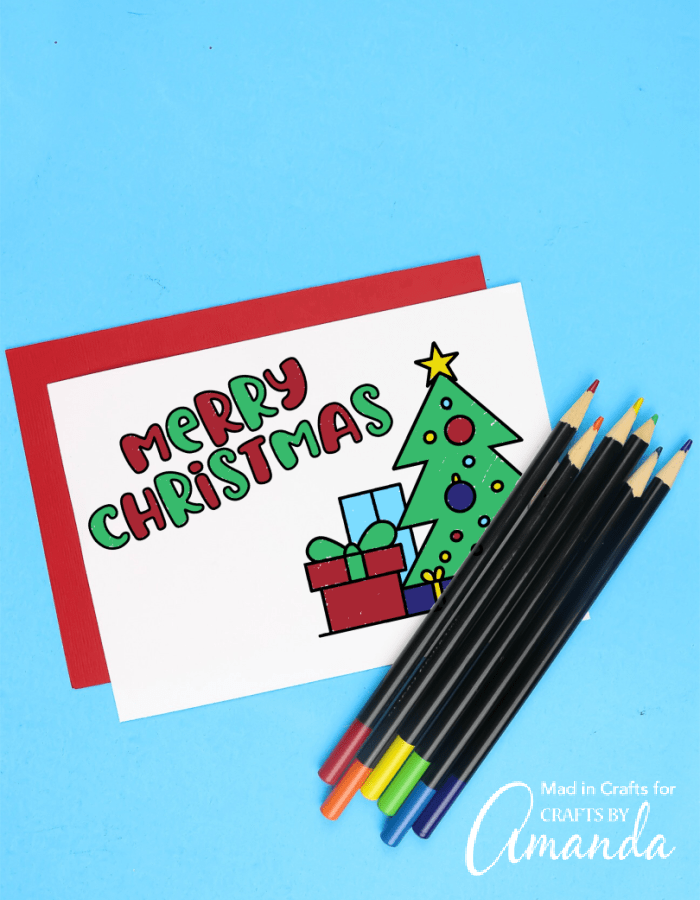 This template allows you to make a cute Santa puppet but also gives the option to add your child's face instead and make this a Santa photo craft.
Kids will find it super funny to add a beard and hat to their photo to transform into Santa.
Santa's in the spirit rocking around the Christmas tree with this easy wobbling Santa. Parents will have to do some cutting and tracing ahead of time to make the craft easier for toddlers.
This paper Santa rocks from side to side once you are complete and would be a great Christmas card to give out!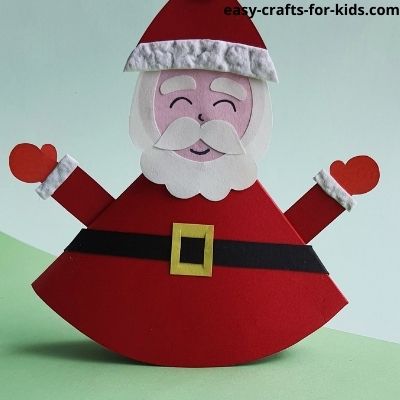 Santa is coming to town with this delightful book mark that toddlers can create and give to grandparents. This DIY bookmark will require teachers or parents to trace and cut out all of Santa's clothing using cardstock and the template but then toddlers can have a blast dressing Santa from head to toe.
This is a great craft to help kids learn about body parts and the order of getting dressed.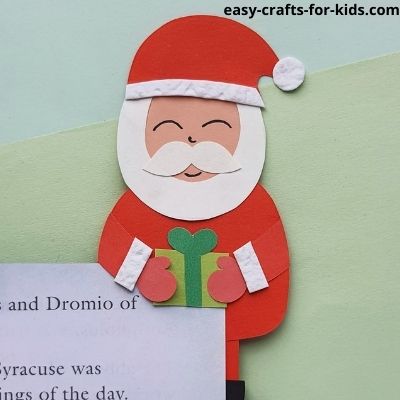 Perfect for toddlers as you simply glue multiple popsicle sticks together and then add on some fun decorations like pom poms, googly eyes and felt to create Santa's face.
Don't forget to give Santa the perfect red hat to keep his head warm in the North Pole!
Cherish the memory of precious little hands while making these cute Santa Salt Dough ornaments that you can add to your tree. I have made these with both my kids for their first Christmas and I love looking at them every year on the tree and comparing how much they have grown.
These are easy to make and require little ingredients but do take a little bit of time to bake, so I often plan this project over two days: one to create and one to paint and decorate.
Toddlers and Babies love touch and feel activities so this Santa beard is perfect. This craft is inspired by the book Have Yourself a Hairy Little Christmas, where the elves are helping Santa try out new beards.
Create his face using cardstock then add some cotton balls and glitter to make his beard SPARKLE!
Use this build your own advent calendar as a way to practice fine motor skills, and counting skills as you add one cotton ball every day to Santa's beard, counting down until Santa's arrival on the 25th of December.
Bonus Santa Activities for Toddlers
While Santa Crafts are fun for toddlers, DIY Santa games can be the perfect family activity to celebrate the holidays. This craft will need to be created by parents using old plastic water bottles, some paint and some felt to make these cute Christmas themed bowling pins.
Toddlers will love to play this fun bowling game using a tennis ball to try and knock down Santa, the Elf and the Snowman in this holiday inspired activity.
platein28.com/strawberry-santa-hats(opens in a new tab)
Doing all this crafting and bowling can be tiring and make the kids hungry! So why not get them involved in helping you make Santa Hats as a fun family snack. Santa hats are made of strawberries, banana and whip cream, so not only are they a fun snack for toddlers they also sneak in some fruit which we all know can be tough to do at that age.
These Santa Crafts are perfect for at home or any toddler or preschool classroom. Plus we have added a bonus Santa inspired snack and Santa bowling to ensure that you keep your toddler busy during the holiday season as we know it can be an exciting time but also a long time to wait until Santa's arrival!
MORE CRAFTS AND ACTIVITIES FOR TODDLERS:
Easy Bug and Insect Crafts for Toddlers
Spooky Ghost Crafts for Toddlers
14 Easy Grandparents Day Crafts for Toddlers
15+ Simple Ice Cream Crafts for Toddlers!
14+ Butterfly Crafts for Toddlers
10 Easy and Fun Flower Crafts for Toddlers
EASY SANTA CRAFTS FOR TODDLERS