The thing I love most about toddlers is that everything is brand new to them and they are so taken with the simplest things.
So, what to put in your toddlers stocking?
The answer isn't complicated. Bright colors, fun things for little fingers to do, or sensory play items are perfect for busy toddlers.
I've collected a range of interesting stocking stuffers for toddlers of all kinds- I hope you can find something for yours 🙂
Need something for a baby instead? Check out these stocking stuffers for babies!
RELATED: Free Printable Letter to Santa Templates
The post contains affiliate links. Please see my disclosure at the bottom of the page.
---
Stacking Cups
These stacking cups are a classic toy for toddlers and with good reason- bright, colorful and attractive! These are great for teaching counting and sizes.
Bathtub Crayons
This set of bathtub crayons also comes with fun fizzing color tablets. I LOVE giving my toddler bathtub crayons- she can draw on the bathtub walls to her hearts content and it's a pretty easy clean up.
Personalized Wooden Tool Belt Set
The option to personalize this wood tool belt set makes it extra special. The wood is smooth and made perfectly for little hands.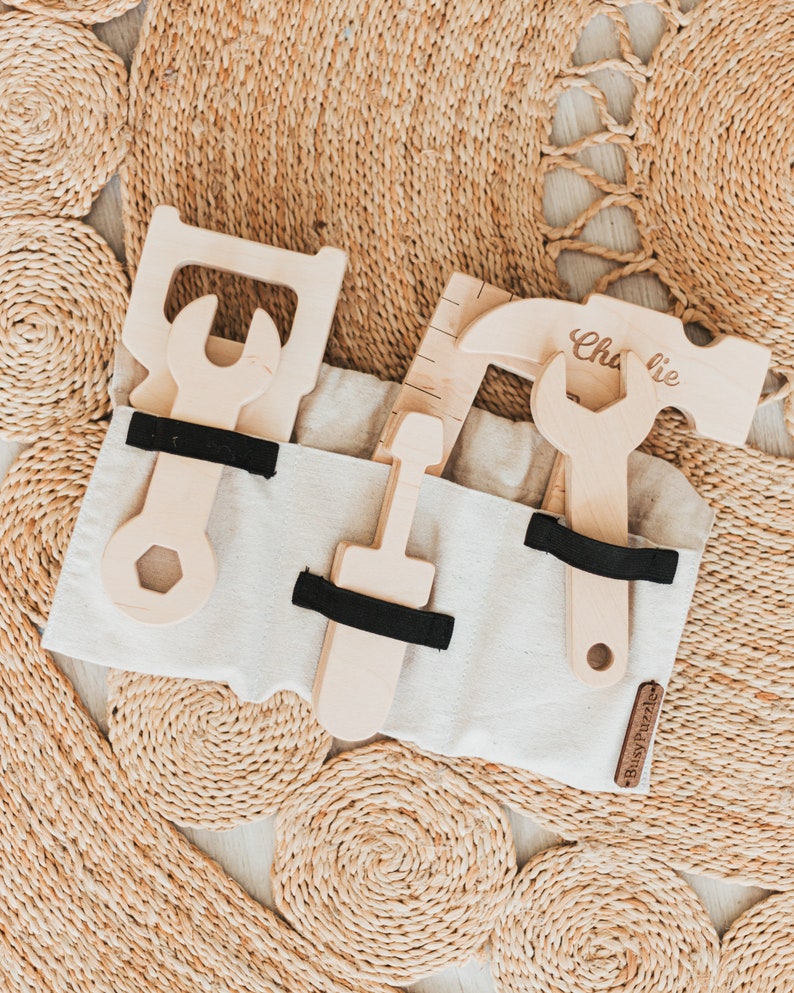 Memory Match Farm Animals
This handmade wooden memory matching game will bring entertainment wherever you are! Toss them in your bag and your toddler can use them at appointments, at restaurants or just playing at home.
Baby Einstein Balancing Toy
This Baby Einstein wooden balancing toy is great for fine motor skills. It's made with quality in mind. 3 of the pieces have musical chimes and there are different textures added to grab your toddlers interest.
Wooden Stacking Wave
These wooden waves are handcut from maple wood and painted with kid safe acrylic paint. Perfect for small world and open ended play.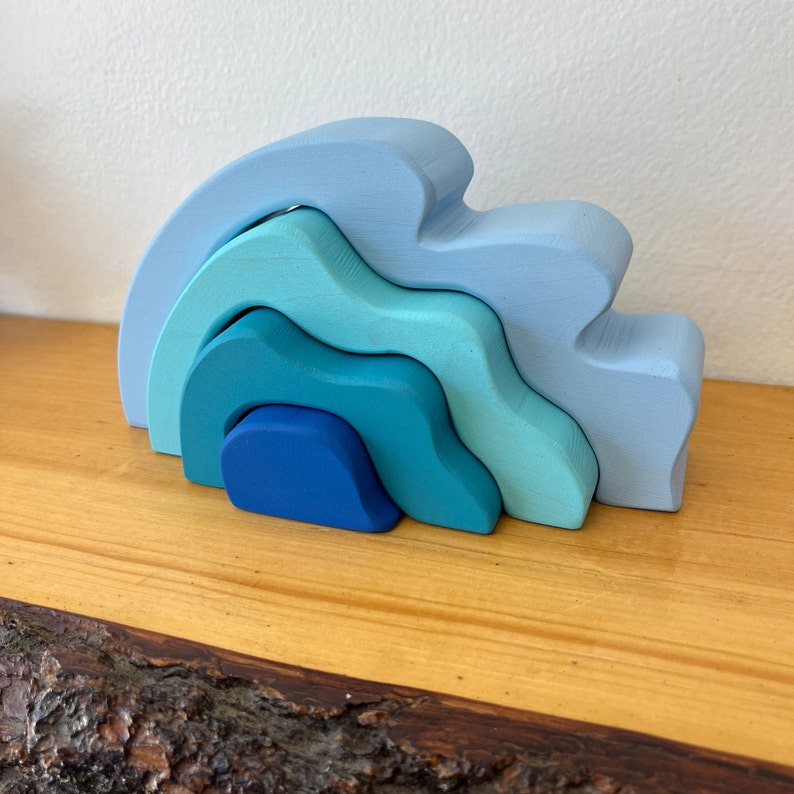 Baby Einstein Wooden Pull Toy
Seriously, my 1.5 year old loves to drag her wooden pull toy around- huge source of entertainment for her! This particular Baby Einstein pull toy is an inch worm so it moves up and down with every step your toddler takes- this can be motivating for a child who's learning to walk.
Giant Palm Grip Crayons
You really can't understand the genius behind palm grip crayons until you have a toddler. Their pudgy hands just can't quite grasp a crayon the right way yet- these are the perfect shape for a toddler to be able to grip and color easily.
Personalized Train Whistle
Give your toddler a fun way to make noise with this personalized wooden train whistle that will last as a wonderful keepsake.
Bath Bobbers
These bath bobbers are so cute– and they can't sink! These are the perfect size for small hands to play with. Comes with a penguin and polar bear.
Play Doh
Truly, you can't go wrong with play doh. So much imaginative play to be had! And also squishing and feeling- lots of squishing 🙂
Handmade Wooden Play Dough Toys
These handmade playdough toys double as play kitchen toys as well! The creative options are endless for rolling, stamping and shaping.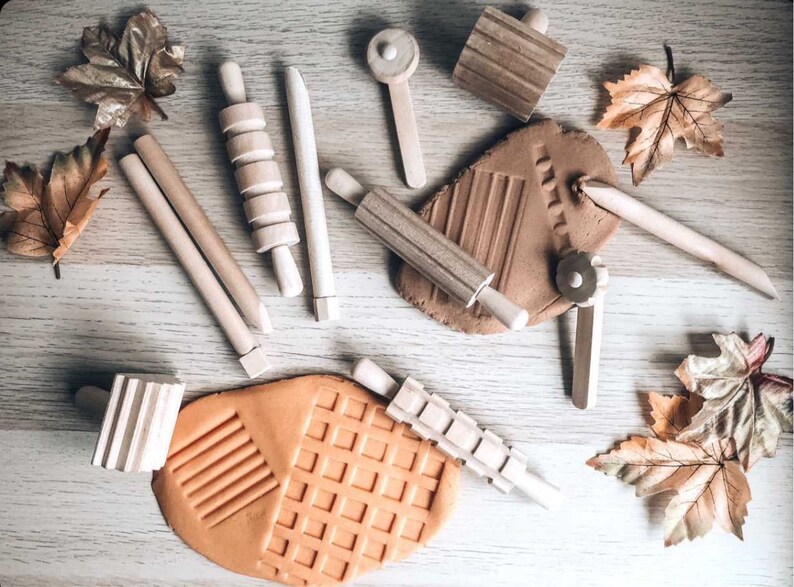 Buster Square
This square is such a neat idea because we all know that toddlers are fascinated with buckles and buttons. This fabric square has all sorts of buckles, snaps and buttons to entertain a toddler for a long time!
Felt Christmas Puzzle
These felt puzzles would make either a great stocking stuffer or an add-in to your toddler's Christmas eve box.
FunKeys Toy
Okay, when I saw these toy car keys I burst out laughing. Whoever made this is a genius. My toddler is constantly finding my car keys and starting my car or hitting the alarm. This set of toy keys makes all sorts of noises and has a built in flash light too!
Minimalist Stacking Animals
These Montessori inspired nesting animals are so cute and perfect for toddlers because they are made of silicone and are virtually indestrucable. This is a great open ended toy that will last a long time.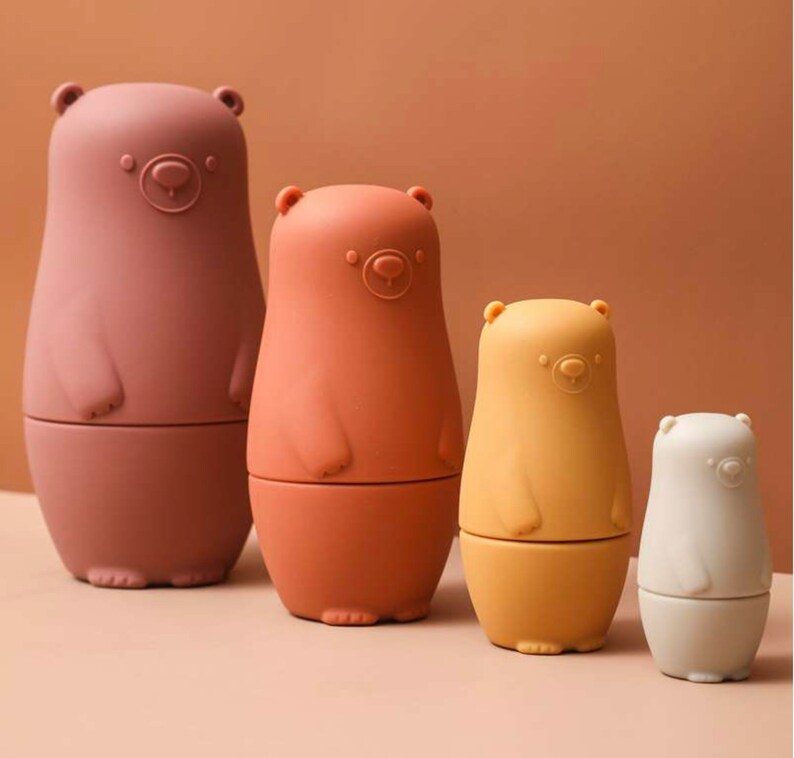 Babsy Books
These books are made to teach your toddler about everyday things and are meant to be read and sung together. They're very well made and sturdy- perfect for not so gentle toddlers. You can use the code TODDLERS1 for $40 off your order 🙂
---
I'm going to be honest with you- toddlers really don't need much. They're still little and happy with such simple things. Every year I end up laughing because my kids (all under 6) are usually more taken with a giant box or bag than whatever toys they get.
That being said, it's always fun to find something exciting and you never know what the real winner will be each Christmas. Perhaps it will be one of these toys or perhaps it will be some bubble wrap haha. Either way, Merry Christmas ❤
More Christmas Ideas:
More Fun Stuff From The Mommyhood Club:
Stocking Stuffers For Busy Toddlers