The 4th of July is just around the corner and the kids want to get in on all the fun patriotic celebrations with everyone else. With that in mind here are some easy 4th of July treats that you can make with your kids to celebrate Independence day this year!
Enjoy our list of the Best Fourth of July Treats Ideas for Kids!
This post contains affiliate links. Please see our disclosure for more details.
If you are looking for a simple patriotic treat that the kids can help you make then look no further than this patriotic popcorn cake!
All you need is some popcorn, marshmallows, butter, red and blue M&M's, and some red and blue sprinkles. This popcorn cake will look great on your 4th of July dessert table!
These patriotic chocolate covered marshmallow pops will be great fun for the kids to make and eat!
All you need are some marshmallows and chocolate candy melts in red, white, and blue and these will be delicious and look quite festive on your 4th of July table!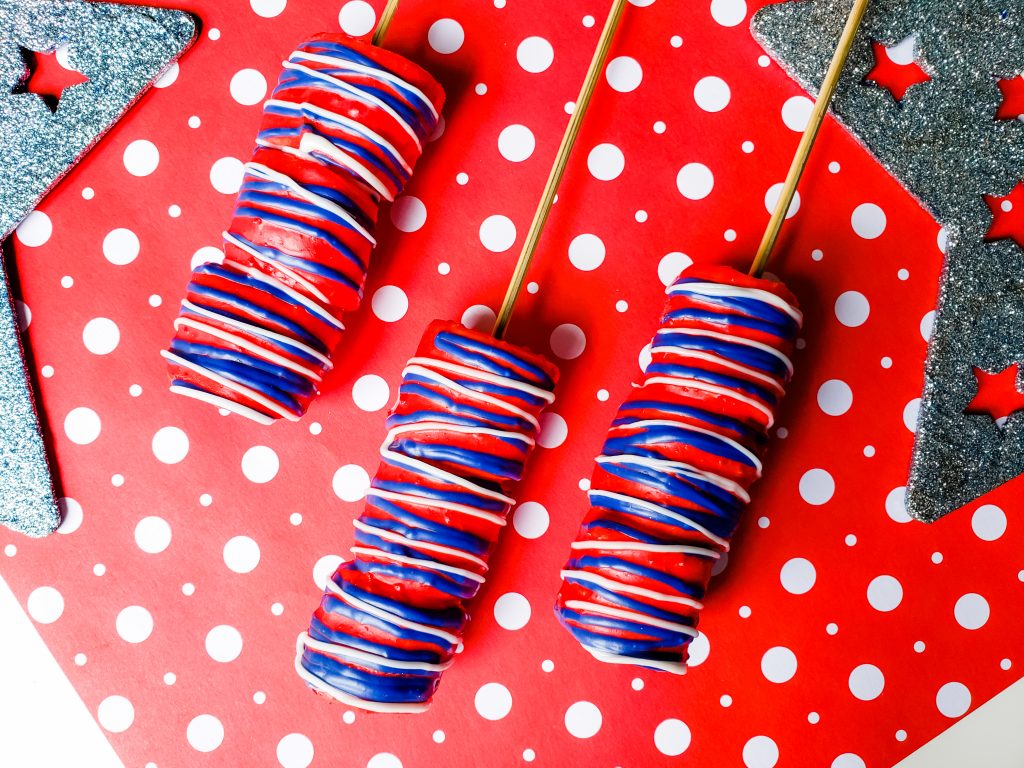 This is a sweet treat that the kids will love helping you make and eat, and it only requires a few simple ingredients.
All you need for this red, white, and blue chocolate bark are some white chocolate candy melts and your favorite red, white, and blue candies and sprinkles. Simple and delicious!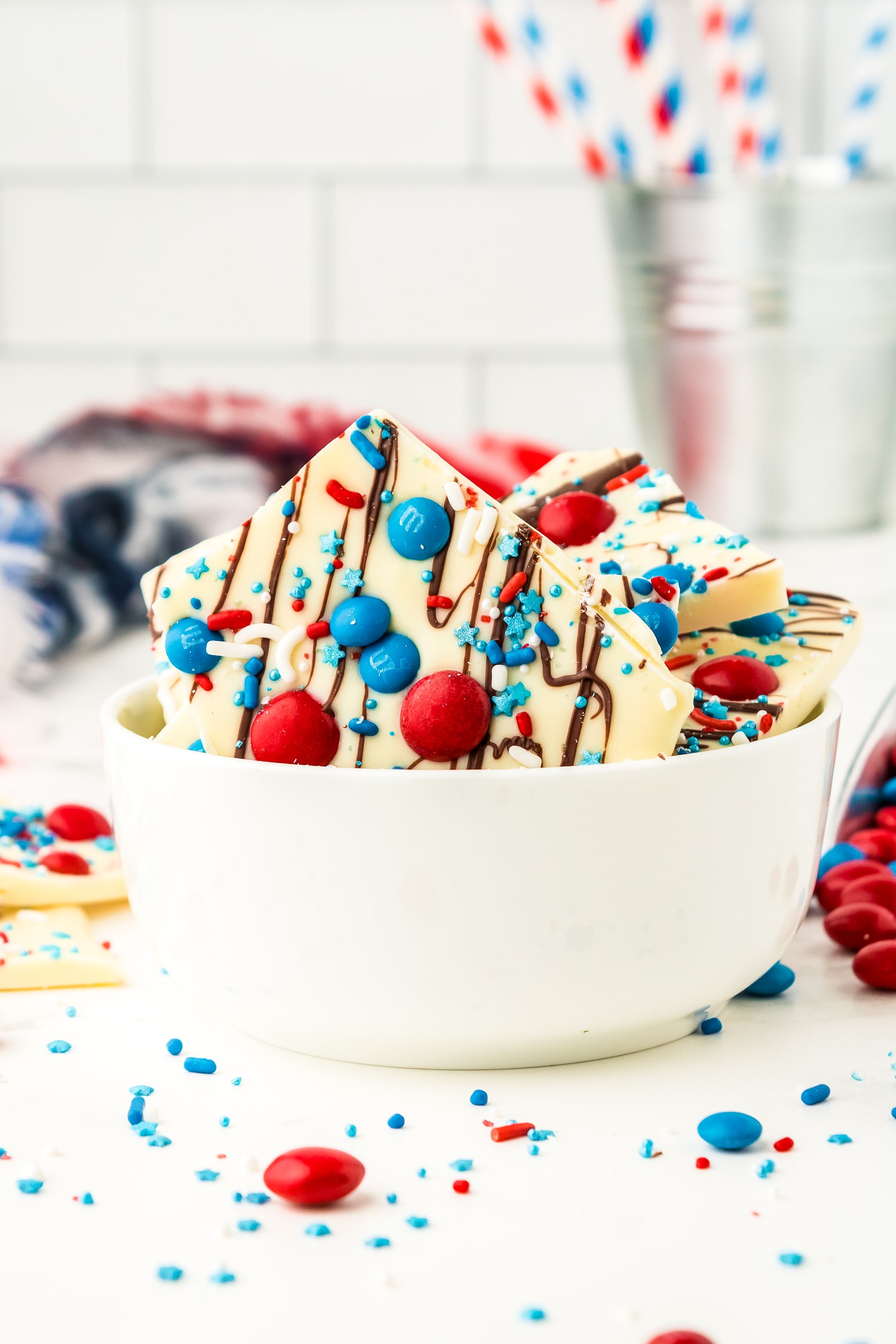 Chances are you have heard of pigs in a blanket and rocket dogs are just a more 4th of July friendly version of the same thing.
You don't want the kids eating nothing but sweet treats all day so try and tempt them with one of these tasty hot dog treats!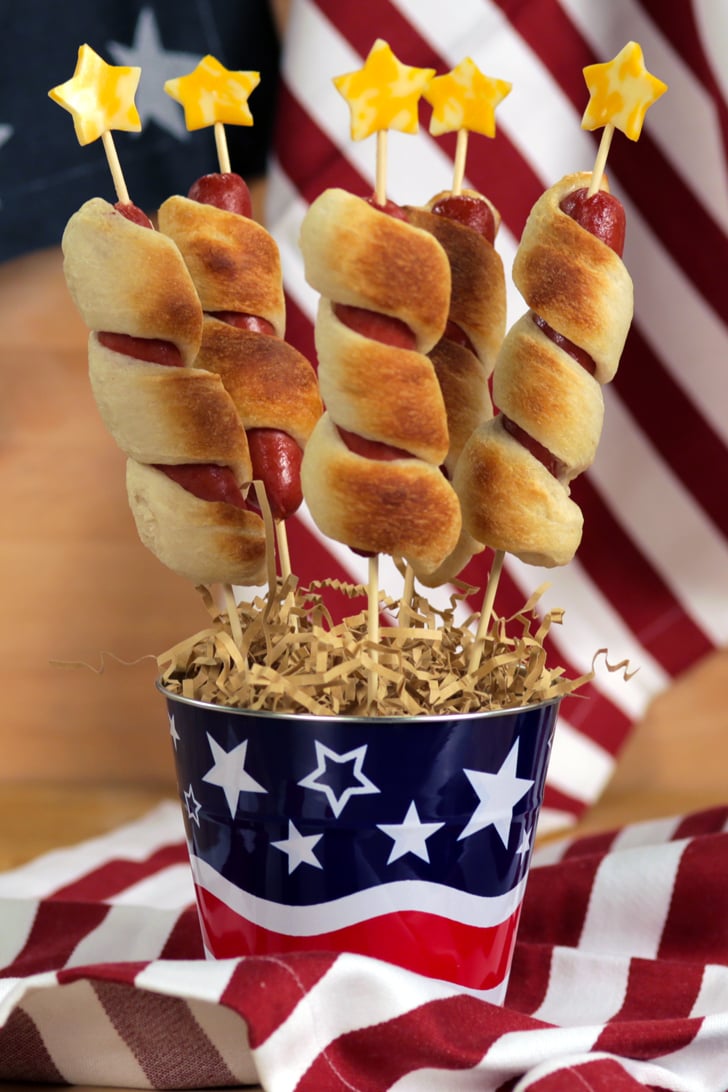 Keep the kids hydrated in the heat with this beautiful and tasty Patriotic Spritzer. All you need are some complimentary flavors of red juice and blue juice that you can freeze in ice cube trays.
Once frozen, top the ice cubes with Sprite or sparkling water.
These watermelon star sparklers are easy to make and the kids can help. These fruity delicious treats will make your table look festive and healthy! All you need to make them is watermelon and a star-shaped cookie cutter, blueberries, and a straw.
You can also alternate marshmallows with the blueberries for a complete red, white, and blue look!
It really doesn't get any easier than these red, white, and blue ice cream sandwiches because you get to use pre-made ice cream sandwiches!
The kids will still love dipping their ice cream sandwiches in red, white, and blue sprinkles though!
This 4th of July snack mix is a perfect sweet snack for your indoor or outdoor Independence day gathering.
It can be a little messy to make, but you probably know some kids who would love to help right? M&M's, Whoppers, Chex cereal, peanut butter, and powdered sugar are the stars of this holiday treat!
Looking for a healthy frozen 4th of July treat that kids and adults are sure to love? Then these berry delicious Nilla sandwiches are for you!
Nilla wafers, Greek yogurt, and some fresh blueberries, strawberries, or raspberries are all you need, and the kids can help you make them ahead of the party!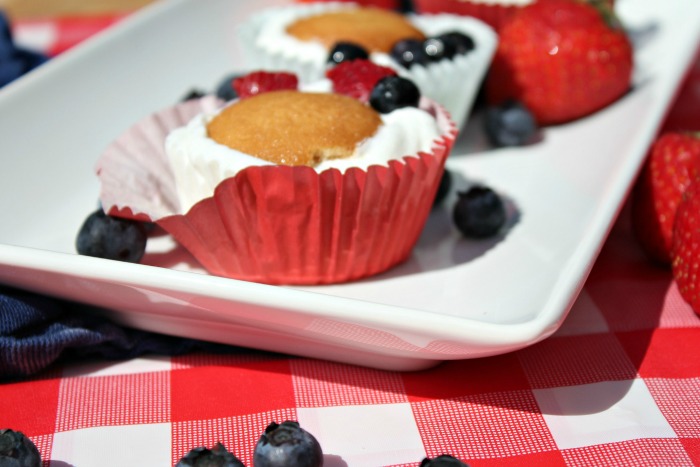 Want to make sure that your kids start their 4th of July with a healthy breakfast? Then make some red, white, and blue flag toast!
They will love having a special holiday themed breakfast that they can help make themselves, and you'll love knowing they started their day with a healthy meal!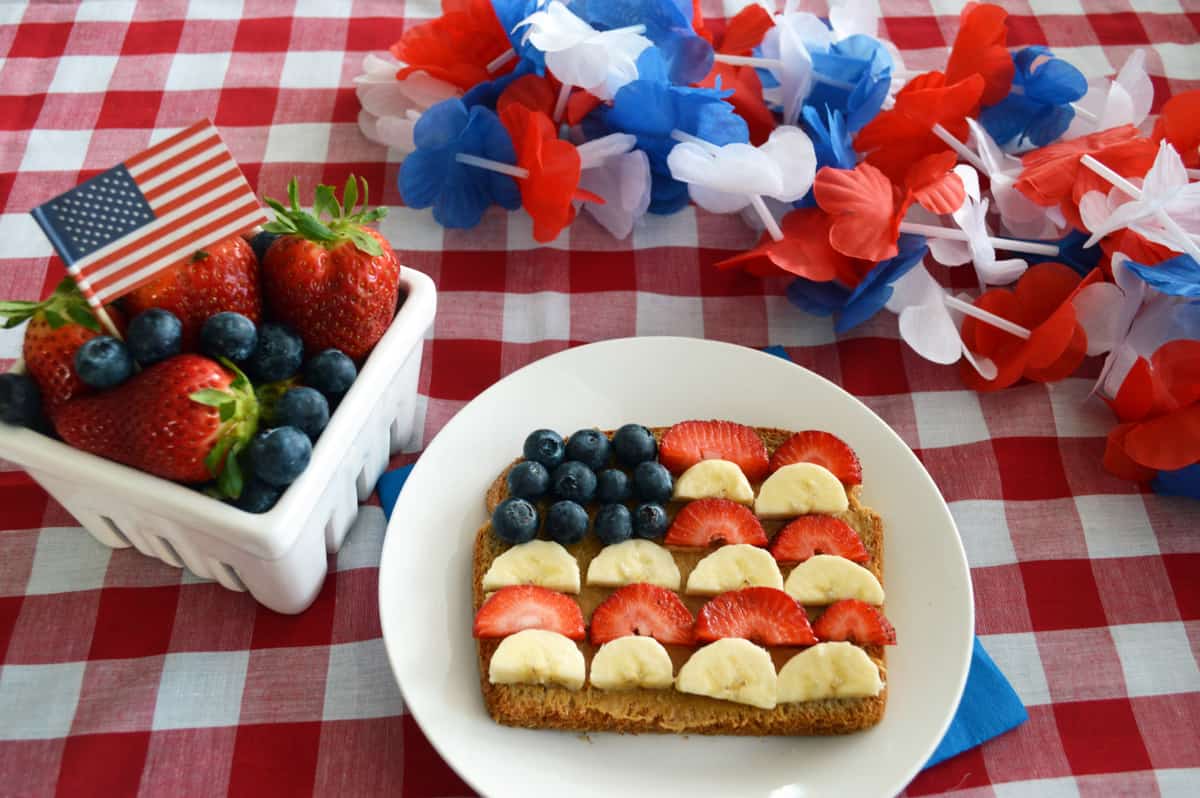 Firecracker jello treats are a perfect kid friendly dessert or treat for your Independence Day celebrations!
All you need is red and blue jello, whipped topping, and some licorice sticks to make your "firecrackers".
Looking for a tasty independence day treat that the kids can help to decorate themselves? Then have a look at these American flag graham cracker treats.
All you need are some graham crackers, white frosting, and some red and blue candies that the kids can design like a flag.
These red, white, and blue bananas are festive and refreshing.
These treats are easy to make and after Independence day is over you could make them all summer long with whatever colors of chocolate and sprinkles you have around the house.
Are you looking for a sweet and salty kid friendly treat for your Independence day celebration? Then check out these chocolate covered pretzels!
You can have the kids help you dip the pretzels in the melted chocolate and then into the red, white, and blue sprinkles!
If you want an icy cold treat for the 4th of July to help everyone cool off, check out these red, white, and blue white chocolate pudding pops.
Fresh or frozen blueberries, sliced strawberries, and white chocolate pudding are all you need for this festive popsicle.
Surprise your guests with cookies with firecracker sugar cookie bars that really "pop". The kids will love helping you measure out the ingredients for these cookie bars, and once they are cool they can decorate them too.
Pop rocks on top of the icing are the secret "popping" ingredient, perfect for the 4th of July!
Patriotic trail mix is easy for the kids to make themselves and everyone can enjoy snacking on it all day long.
All you need for this tasty treat are red, white, and blue candy, marshmallows, nuts, and miniature graham crackers.
4th of July poke cake is a simple dessert that kids and adults alike will enjoy! Let the kids help you make it by poking the holes into the baked cake and helping to put the red and blue jello in the holes.
After you "ice" the cake with whipped cream they can also help you decorate it with sprinkles!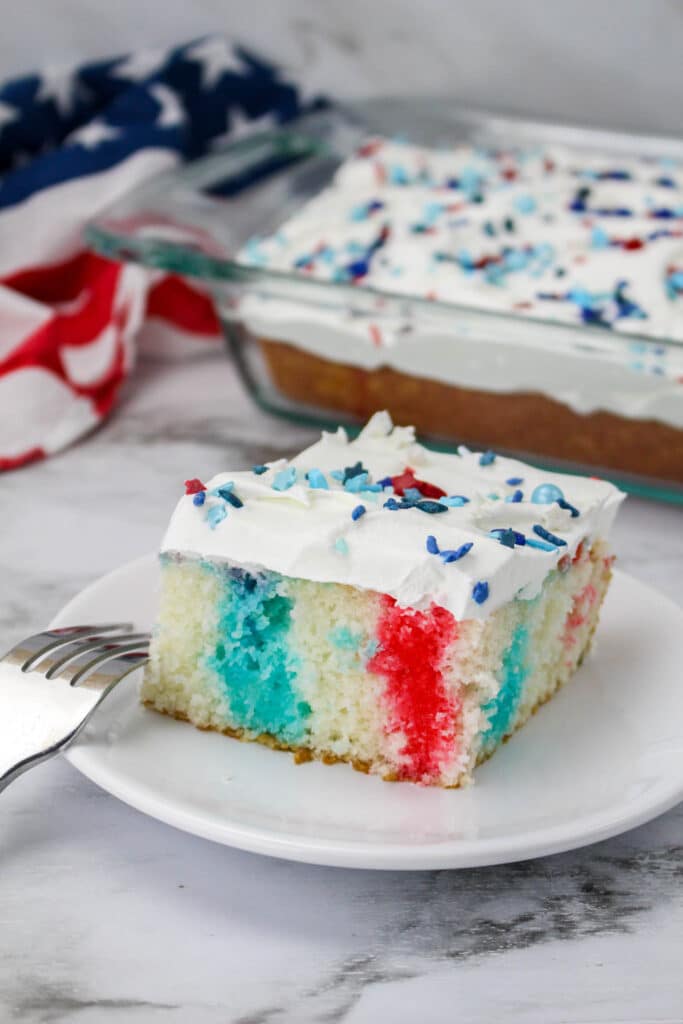 All of these easy 4th of July treats for kids are sure to be a hit with everyone at your Independence day celebrations. Which treats do you plan to serve your young guests this year?
MORE CRAFTS AND ACTIVITIES FOR TODDLERS:
Easy Bug and Insect Crafts for Toddlers
Spooky Ghost Crafts for Toddlers
14 Easy Grandparents Day Crafts for Toddlers
15+ Simple Ice Cream Crafts for Toddlers!
14+ Butterfly Crafts for Toddlers
10 Easy and Fun Flower Crafts for Toddlers
EASY FOURTH OF JULY TREATS FOR KIDS