Marine life is something many children get fond of at some point in their life. For children, especially toddlers, this world is full of creatures that are out of the ordinary – something they don't get to see every day. Not to mention how many children's books, toys, and shows feature sea creatures that are bubbly, adorable, and colorful.
This post contains affiliate links. Please see our disclosure for more details.
After visiting the oceanarium, going to the beach, or even watching Finding Nemo, you will probably have a toddler that won't stop talking about fish and other marine animals. While a parent could only listen and watch Baby Shark a hundred times, instead of putting on the show again, your child can channel out their current fondness of the ocean to something different and more stimulating outside the digital screens.
You and your kid can bond and create these vibrant and cheerful ocean crafts for toddlers. These will keep you busy and creative for hours and even for days.
Enjoy our list of the Best Ocean Craft Ideas for Toddlers!
This post contains affiliate links. Please see our disclosure for more details.
Paper Plate Scallops
Gather some watercolor, markers, paper plates, and scissors because this craft can be as colorful as a Disney show. Let your child go wild by painting the paper plate with any bright color or even creating cute patterns.
Take a lunch break while waiting for the paint to dry. When ready, you can help your kid cut the paper plates into scallop shapes and then fold them in half. When done, you can even string the scallops together and hang them in your kid's bedroom or the Christmas Tree if the season is right.
3D Paper Fish
Bring the fish to life by creating an exciting 3D paper fish. You need to prepare different color of cardstock and shapes, scissors, toilet paper roll, colored papers, glue, acrylic paint, and a printer.
A little more challenging craft to make, but in the end, it will all be worth it. This should allow you to spend 2-3 hours together while enjoying your toddler's favorite ocean-inspired show or movie.
Starfish Texture Art
A relatively easy craft to make. As long as you have a printer, white paper, scissors, glue, and crayons – you are good to go. You have to choose 3-4 surfaces or items with significant textures such as LEGO base plates, window screens, baskets, or even a strainer.
Once all the desired designs are added and colored, you can help your toddler cut up the starfishes. If you have popsicle sticks lying in the drawers, you can glue these starfishes on the stick. This will allow the starfish to stand up on their own by sticking it on the sand or soil.
Crab Puppet
These are incredibly cute and unique puppets. All you need are a printer, orange-colored paper, glue, popsicle sticks, markers, and scissors. You simply have to print the crab template, but the cutting itself is a little challenging. It's best if you do it while your toddler creates the eyes. Finally, glue the parts together.
Paper Plate Sea Turtle
If the turtle is something your toddlers love nowadays, they will love this craft. You only need to prepare paper plates, watercolour or acrylic paint, markers, green construction paper, a stapler, and googly eyes.
This is a quick one hour craft, and once it's all ready and done, your kid can play with it or even put it on the fridge with a magnet. Remember to add a tape or hot glue over the staples to avoid accidental cuts.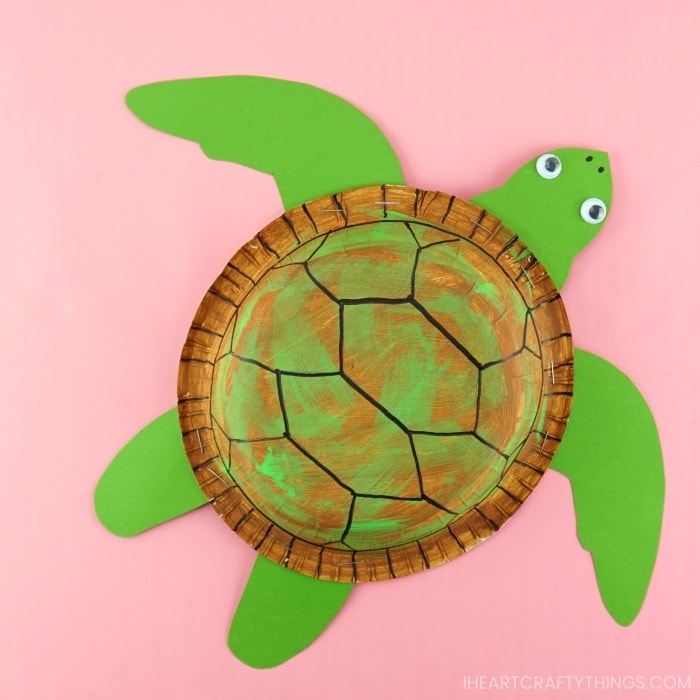 Egg Carton Ocean
You and your kid can make your own mini aquarium craft that includes all their favorite marine animals and plants.
Make sure you have an empty and clean egg carton, paint or watercolor, colored paper, and scissors. You can also use other materials such as shells, rocks, glitters, and gems.
Paint the carton first since it will take a while to dry. While waiting, you and your child can start drawing fishes and other water creatures, add some color, and then cut them out. Add these designs to your carton when it's dry and ready.
Paper Bag Sea Otter
This activity is so cute and fun. It's an eco-friendly version of puppets that you and your children can make together. All you need is a printer, brown paper bags, glue, scissors, and coloring pens.
After printing the sea otter templates, your toddler can start gluing them on the paper bag, and later on add some other designs such as starfishes and leaves.
Paper Bowl Jellyfish
This little project is very easy to make. Gather paper bowls, watercolor or acrylic paint, googly eyes, colored tissue paper, strings, and markers. Paint the water bowl first because that will require to be dried.
Next, cut the toilet paper, which will serve as the jellyfish tentacles. Since the cutting part is not too complicated, your children can finally practice cutting paper using child-friendly scissors.
When finished, this craft is fun to attach to your kid's art room or bedroom ceiling, add some fairy lights for a magical touch.
3D Sailboat
If 3D designs are gaining popularity in your toddler's world at the moment, this another 3D activity is very exciting. It only requires basic materials such as glue, colored papers, and scissors.
The shapes needed will have to be cut properly, it's better to assist your kid on that part. Your child can then glue the parts together and create a little sailboat having fun sailing onto the sea.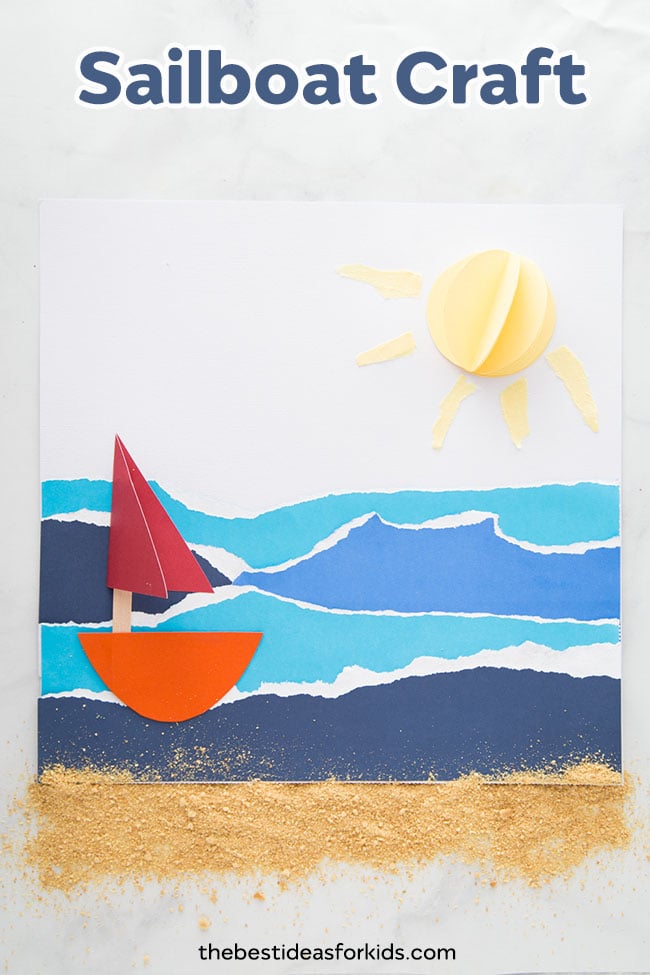 Aquarium Cardboard Theater
This project will take a while to finish. If you are looking for one that you and your children could work on for about a week or longer, this is a good one to make. It will also help your kid to begin understanding the concept of ongoing tasks.
You will need a big box. A TV box or the box that came with the shelves is great. You should also have blue acrylic paint or watercolor, hot glue, scissor, a box cutter, and strings.
Don't let your kids use the box cutter or hot glue. You can instead do those and then assist them in attaching the animals, shapes, and other parts. You can save some time by buying an ocean or marine animal book where you can cut the animals and use those directly.

Rocking Paper Shark
For toddlers who can't seem to get over Baby Shark, this is something they will love. It's simple, quick to make, and involves a lot of color. You will need cardstock, tissue paper, scissors, glue, googly eyes, diluted glue with water (or mod podge), and a paintbrush.
To lessen your work, you can print a template and let your child color the body. You can also mark which part should be colored to ensure that there will be different shades around the body of the shark.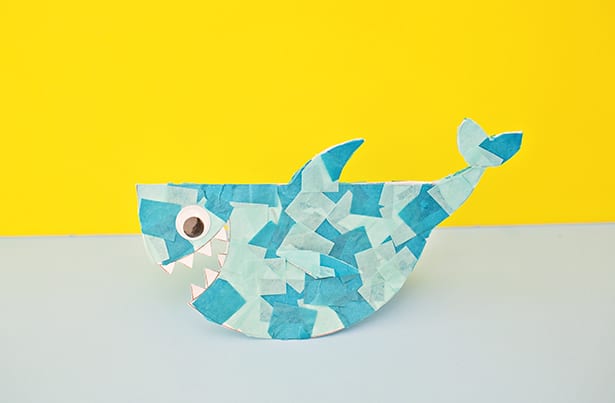 Blue Whale Paper Bag
If you have an extra paper bag, this next craft is very lovely! With the help of glue paint or watercolor, googly eyes, marker, colored paper, and tape – you can help your toddler make one adorable blue whale.
Help your kid when painting to avoid using too much and soaking the paper bag. While waiting for the paint to dry, you can start making the "blowhole" feature that goes on top of the head.
Shark Headband
This craft is so amazing especially if your child is requesting a shark or ocean-life theme for their birthday. Instead of using regular birthday hats, you and your kid can create some adorable shark headbands and use them for the party.
It will encourage your toddler to be creative, but will also make them more involved in the preparation. If you feel like it's too much work to make the headband for all the guests, you can turn this into a birthday activity to kick start the celebration instead.
Simply print the template and prepare watercolor. Each child can design their own headband.
Watercolor Jellyfish
This design is not only a good one for toddlers but also a great one if you are only starting with arts and crafts together. This is easy and will not intimidate your child or stress you too much.
You only need to print the template and then apply watercolor to the jellyfish's tentacles and head. In the end, cut the tentacles on the line marks. Finally, use a pen to curl the tentacles up, which adds some charm that your kid will love.
Craft Stick Octopus
With limited materials such as colored popsicle sticks (or plain), felt paper, googly eyes, glue, and scissor – you and your kid can make some lovable octopus. It's best to use hot glue, but be mindful when using one.
If you have plain popsicle sticks, instead of buying different colors, you can use watercolor to paint them.
Ocean and Under the Sea Crafts for Little Ones
Support and encourage your children's newfound favorite characters by creating fun and colorful marine animals. These ocean crafts for toddlers can be done as a weekend project or as an exciting activity during a children's party.
Your child won't have to sit all day watching marine-inspired shows. They can also learn about these creatures by doing colorful arts and crafts.
MORE CRAFTS AND ACTIVITIES FOR TODDLERS:
Easy Bug and Insect Crafts for Toddlers
Spooky Ghost Crafts for Toddlers
14 Easy Grandparents Day Crafts for Toddlers
15+ Simple Ice Cream Crafts for Toddlers!
14+ Butterfly Crafts for Toddlers
10 Easy and Fun Flower Crafts for Toddlers
EASY OCEAN CRAFTS FOR TODDLERS