If there's one thing that grandparents love, it's keepsakes. Let your toddler honor their grandma and grandpa on Grandparent's day by making these adorable crafts that they will cherish for years to come.
As a parent, there's nothing that will melt your heart more than when your little one makes a special handmade craft for you. They feel accomplished and they love to see your excitement. So today we are spreading the spotlight onto their grandparents so they can feel the same way and know they are appreciated.
Enjoy our list of the Best Grandparents Day Craft Ideas for Toddlers!
This post contains affiliate links. Please see our disclosure for more details.
All About My Grandma/Grandpa
These printables are perfect for anyone too busy to make a full-blown craft but want something meaningful for Grandma and Grandpa. Your kids can fill out a questionnaire, draw a picture of themselves with grandma/grandpa and color a coloring sheet.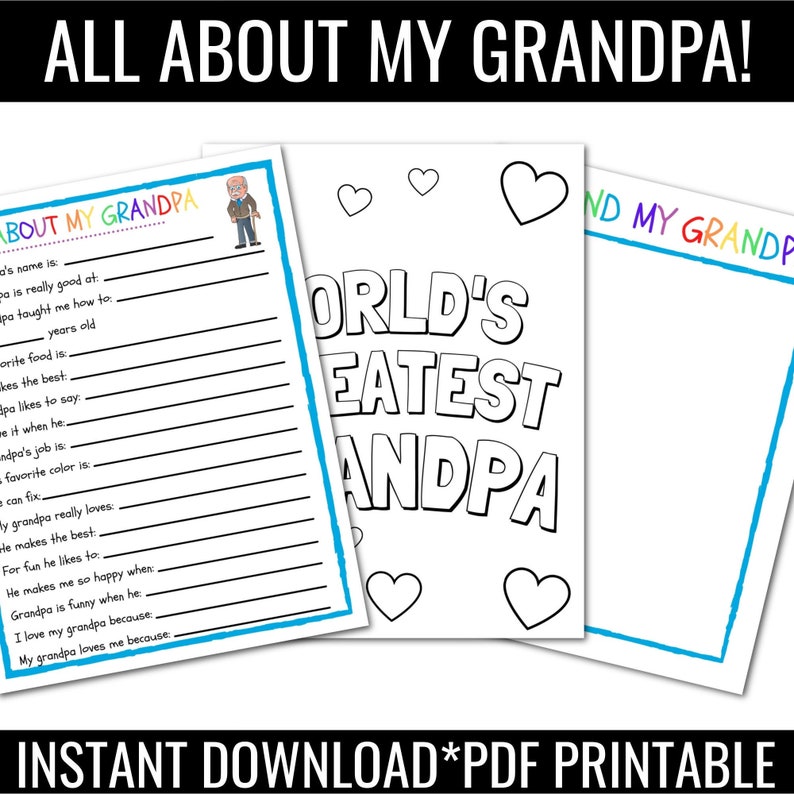 This cute craft comes with a printable poem that you can glue to the bottom on a mini canvas. Toddlers will fingerpaint the heart with their favorite colors. You can even buy small easels for their creations to rest on for the perfect gift idea.
There will be smiles all around once the grandparents receive this cute love bug card. It's fairly simple and is a great last-minute craft or when you are short on time. There's a mason jar template you can print out. Glue it to a sheet of construction paper, then have the grandkids make the bug from their thumbprints.
This keepsake will require a little help and supervision but are super cute once they are finished. The instructions say to make a spot for a tealight candle to sit, but you can skip this part if you like and just make the salt dough. Then press their little hands down and let them dry. Afterward, you can paint it or leave it the original color.
These medal of honor "ribbons" are cute and unique. They aren't technically ribbons to be worn, but they do look amazing hanging on the fridge. Every time a grandparent walks by they will be filled with the warm and fuzzies.
Ditch the store bought cards and make some from handprints instead. Use a pretty patterned piece of cardstock for the main card. Then have your toddlers ink their hands onto a white piece of paper. Mom you can help write the message on the inside. To jazz it up a little bit you can cut out different pieces of paper, layer it, then write on each one.
Let the kids draw on ceramic coasters or print off some of your favorite photos of them. If the coasters don't have a smooth bottom, you can hot glue felt or cork to they sit level. Once you have them decorated, paint a layer of Mod Podge over top and let it dry. Stack them together and wrap with decorative ribbon or twine for a cute and easy gift idea for Grandparent's Day.
Here's a thrifty and colorful paper craft that kids can make. Let them go wild painting the plant. Then you guys will cut small slits all around the outside for a flared look. Use the leftover pieces of the plate to snip triangles on the end to make it look like a ribbon. Once you're done just glue them together and write a message in the middle.
You don't necessarily have to wrap the canvas for this craft, but if you have leftover burlap it's a great idea and addition. Once you trace their hands and cut it out, have them glue it to a canva. Their fingers will act as the tree and limbs. The tutorial made small flowers from leftover fabric, but you can let them glue down artificial flowers for a 3D look for the kind made from craft foam.
Make one of these for both grandparents, where toddlers share reasons why they love each of them. While they can help glue on the flowers, you will need to write out the words for them on the petals. It's always interesting to see what kids say!
This post has 2 different crafts you could make with toddlers. One is a DIY memory book which they can help decorate and glue photos in. The other lets them personalize coffee mugs. Once they are finished doodling, all you do is bake it, and let them cool so the artwork is permanent.
Personalize oven mitts for grandma and grandpa that they will love and maybe actually use! You can use any type of fabric paint to write the message and dip their hands in. However, using a fabric marker may be easier to use when writing. You can grab cheap solid-colored mitts from the dollar store, also making this craft very budget-friendly.
These flower pots are super cute and the saying that you paint on them is adorable, all grandparents will love it! You can use any sized terracotta pot you would like. Simply decorate and write the message on. If you prepped ahead of time, you could let the kids grow their flowers in there, or you can grab pansies or daisies from your local nursery to plant.
This keychain craft turns out really awesome, but you will need some specialty supplies. This includes a keyring and the Shrinky Dinks plastic kits. Once you may the keychain, you'll bake the plastic according to the instructions on the kit. After it's finished cooking, let it cool and make sure it's flat, then add the metal pieces. You can also make other crafts with this material and it's really fun for kids of all ages.
This year Grandparent's Day is going to be super special when you let the toddlers take charge of their own craft ideas to make the perfect gift. There are several on this list you could reuse for other holidays such as birthdays, Mother's Day, and even Christmas gifts. If you are a preschool teacher, you can easily use these in the classrooms as well.
MORE CRAFTS AND ACTIVITIES FOR TODDLERS:
Easy Bug and Insect Crafts for Toddlers
15+ Simple Ice Cream Crafts for Toddlers!
14+ Butterfly Crafts for Toddlers
15+ Easy St. Patrick's Day Crafts for Toddlers and Preschoolers
15+ Printable St. Patrick's Day Crafts for Kids {you can print for free!}
10 Easy and Fun Flower Crafts for Toddlers
20 Cute Easter Crafts for Kids
15+ Adorable Bunny Crafts for Toddlers and Preschoolers {super cute!}
GRANDPARENTS DAY CRAFTS FOR TODDLERS