Red and Orange, Green and Blue, Yellow and Purple too… I can see a Rainbow Craft Activity that will be fun for you! Rainbow Crafts for Toddlers focusing on the colors of the rainbow, mixing of primary and secondary colors, and exploring all 7 colors of the rainbow by creating these fun, easy and simple Toddler Rainbow Crafts.
This post contains affiliate links. Please see our disclosure for more details.
From rainbow arts and crafts to sensory ideas, and science color exploration, we have created a list of the Best Rainbow Crafts, sure to keep your kids engaged in creative activities while exploring colors.
Simply grab your art supplies and give one of these rainbow activities a try either at home or in a daycare classroom as they are designed to be appropriate for toddlers development.
Rainbow craft activities are an excellent way for toddlers to practice and learn their colors and is also a perfect seasonal craft idea for St.Patrick's day and Spring.
Enjoy our list of the Best Rainbow Craft Ideas for Toddlers!
This post contains affiliate links. Please see our disclosure for more details.
Parents can simply draw the arc of the rainbow and either cut or rip pieces of construction paper and allow kids to get creative designing a mosaic rainbow. This bright craft is super to be a masterpiece work of art that every toddler will be proud of creating.

Kids can explore not only color but texture while they complete this natural craft experience using fresh leaves. This simple craft using crayons will create a bright rainbow textured leaf that also shows the patterns of the leaf.

Enjoy this free unicorn and rainbow printable coloring pages that toddlers are sure to enjoy! Kids love unicorns and rainbows so this seems like the perfect combination for coloring sheets.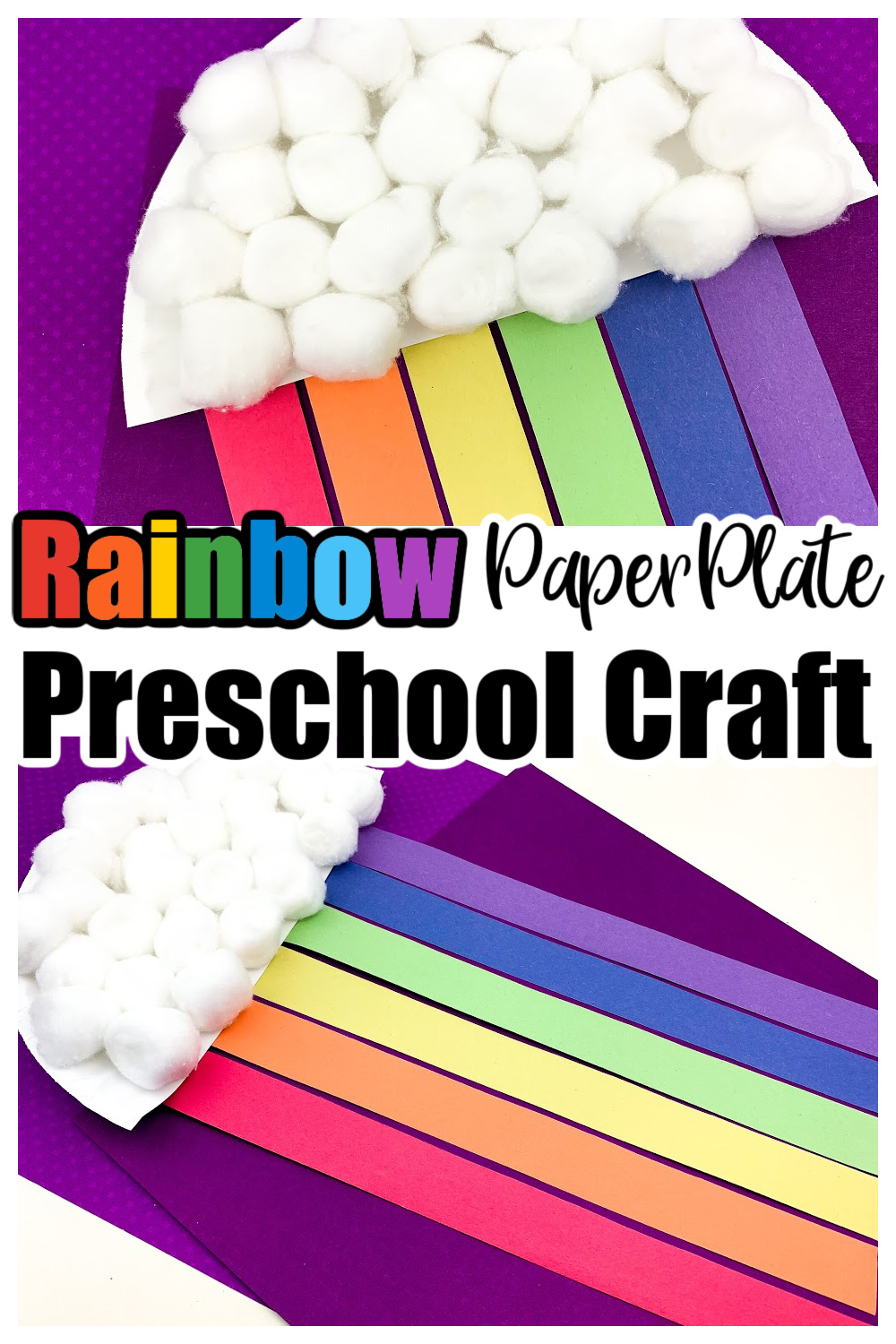 Rainbows are a great design element to explore and incorporate into your next toddler art project. Toddlers will love putting together this easy cotton ball rainbow art project, using cotton balls, construction paper and glue.


Did you know that using markers and paper towels you can grow a rainbow at home. This magical science craft teaches kids about rainbow facts and demonstrates how they are formed. Toddlers learn to identify colors by completing this fun science project.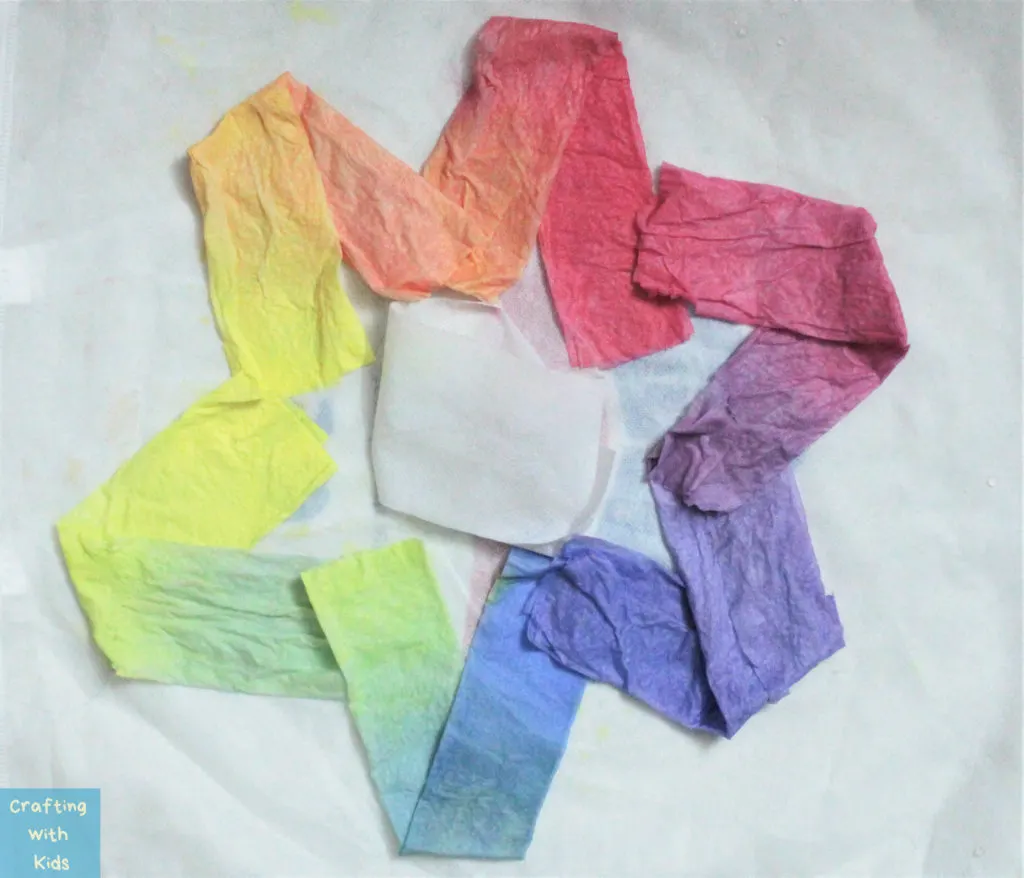 Kids love water, science and colors and this experiment combinas them all in our fun activity for your youngest scientists. Simply household materials such as water, food coloring and a few paper towels to complete the walking rainbow experience and explore colors wheels and color mixing.

This super easy popsicle stick activity lets you create a textured rainbow using popsicle sticks, and cotton balls for the clouds. The Popsicle Stick Rainbow provides toddlers with a sensory and creative experience all in one easy to follow craft. This rainbow craft is perfect if you are looking for Spring Crafts or crafts that enhance weather exploration.

This 3D rainbow craft is a hit with kids of all ages, and perfect St.Patrick's day activity to create and display. Help the leprechaun catch the pot of gold at the end of this simple 3D rainbow craft. Either have children practice cutting strips of construction paper or you can cut the strips ahead of time to simplify the activity.

If you're looking for a simple easy craft with materials you already have at home then this easy rainbow craft is perfect. It is fun and entertaining especially for kids under 5, and they may even sneak in a snack. This craft does involve some work by parents ahead of time to cut the cardboard rainbow and dye the marshmallows.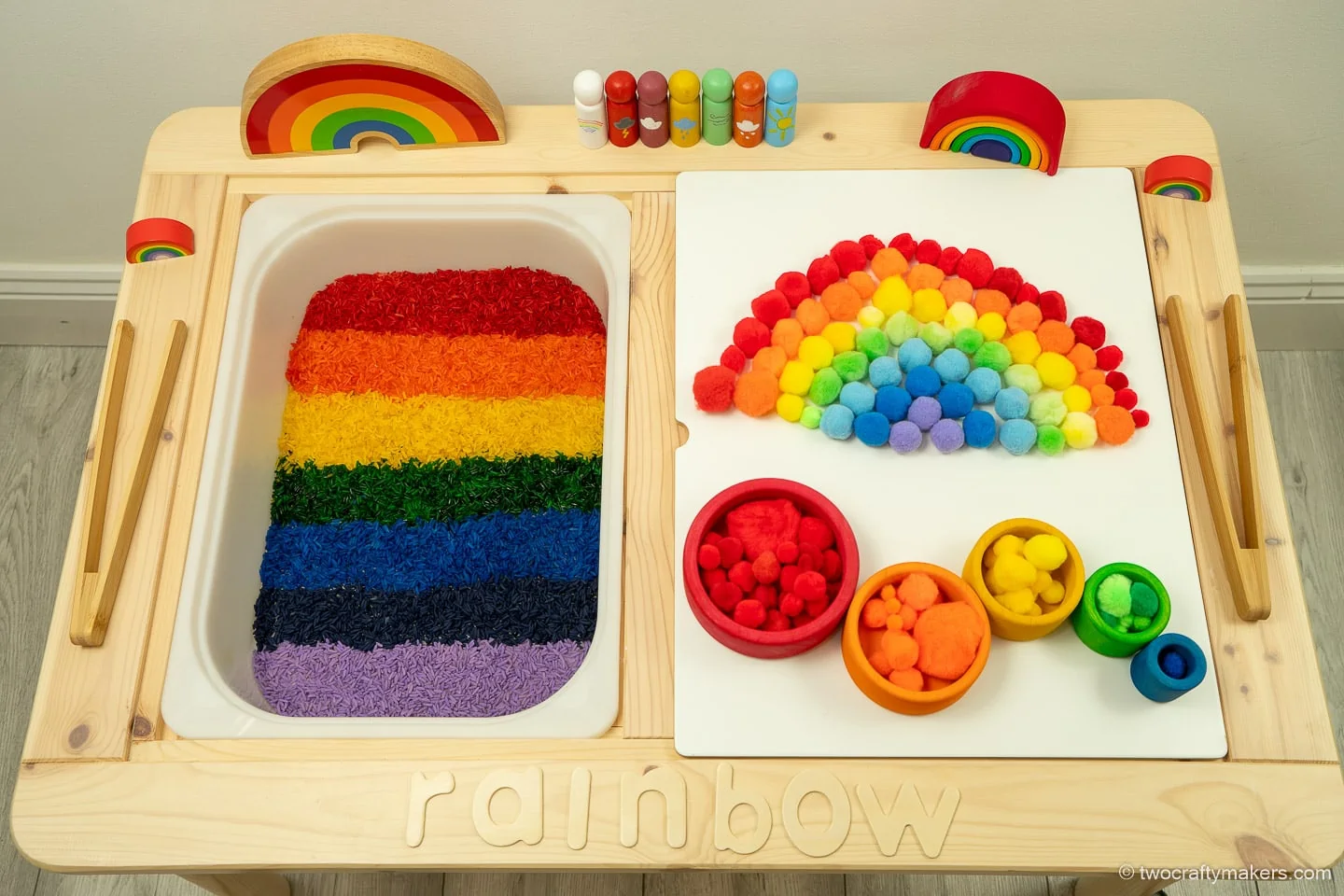 Sensory bins are super fun at this age group and super engaging for kids to scoop and dump, and even better is that sensory activities aid in growth and development. However, parents are always looking for new sensory fillers and while this rainbow rice looks amazing to start with, it doesn't take long for the kids to get creative and mix all the colors but that's part of the fun. So grab some scoops, funnels and bowls and get messy!

This is a fun affordable science experiment as all you need to make a cool rainbow cloud is shaving cream and food coloring. Parents and teachers are sure to enjoy this no prep rainbow cloud science activity as it will wow kids at home or at school. This activity allows kids to explore the concept of rain through a hands-on activity.

Toddlers and preschoolers love to pretend to bake and cook so why not get them involved by making these playdough rainbows. They are made out of all edible ingredients, so while I wouldn't encourage them to eat them, it would be safe if they did, which is great when you have toddlers still exploring by mouth.
Coffee filters and markers are all you need, and then just add water to see the magic happen! Coffee filter rainbows are one of my favorite activities as kids love to color with markers and it can take them a while to color the whole filter, as well as I find coloring relaxing. Simply add water and watch the colors blend together to form a rainbow.

I love using paint for arts and crafts but with the toddler age group it always ends up in a mess, so enjoy this activity that lets kids explore paint without the mess. Toddlers can create a rainbow by finger painting in the bag and exploring how the colors mix.

This craft is the perfect addition to any unit on weather, spring or even St.Patrick's Day. Kids can create their own rainbow by gluing the color strips to the precut cloud and can even choose what order the colors go on their rainbow, encouraging some creativity and resulting in unique rainbow art.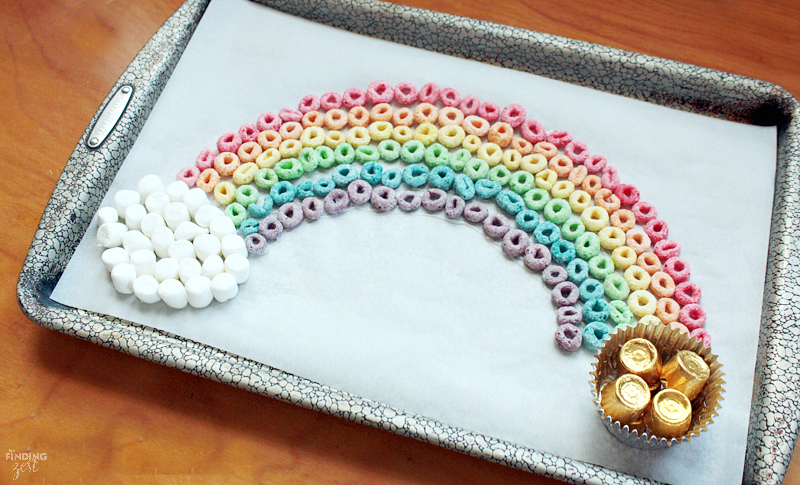 Kids love eating fruit loops or coloured cheerios so why not allow them to do arts and crafts with them too! Toddlers can practice their fine motor skills as they glue the loops into a rainbow arc but they can also practice color matching. This is the perfect craft to practice some educational skills.
You are ready to explore colors through creative opportunities, science experiments and sensory experiences perfectly designed for the little hands of toddlers.
Learning their colors is an important milestone for toddlers in preparing for preschool or kindergarten. Kids learn best through play so why not explore colors in a fun and affordable way with all of these craft ideas.
MORE CRAFTS AND ACTIVITIES FOR TODDLERS:
Easy Bug and Insect Crafts for Toddlers
15+ Easy St. Patrick's Day Crafts for Toddlers and Preschoolers
15+ Printable St. Patrick's Day Crafts for Kids {you can print for free!}
10 Easy and Fun Flower Crafts for Toddlers
20 Cute Easter Crafts for Kids
15+ Adorable Bunny Crafts for Toddlers and Preschoolers {super cute!}
RAINBOW CRAFTS FOR TODDLERS