Teach your toddlers about Cinco De Mayo and its history by using these simple crafts. Contrary to popular American beliefs, this holiday is not about Mexican independence. It's actually a very minor holiday in Mexico.
The holiday came about once the Mexican defeated the French in the Battle of Puebla during the Franco Mexican War.
Even though Cinco De Mayo isn't celebrated in Mexico like it is in the States, it's still a great time to craft with toddlers while they learn about Mexican heritage and culture. With this big list you can have a craft fiesta!
Enjoy our list of the Best Cinco de Mayo Craft Ideas for Toddlers!
This post contains affiliate links. Please see our disclosure for more details.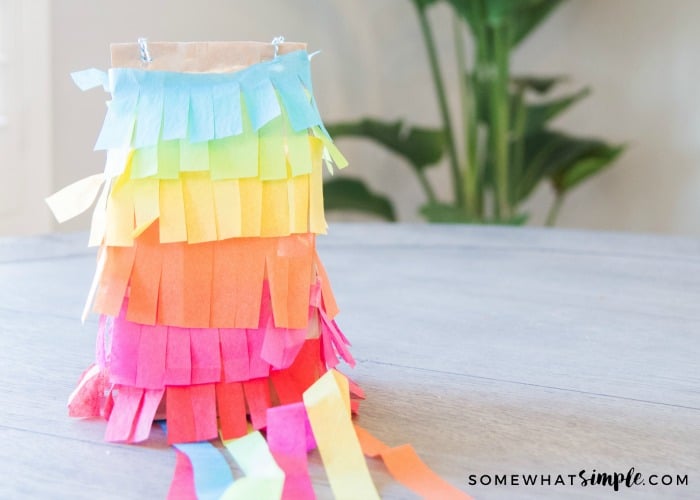 Even if you aren't hosting a Cinco De Mayo party, these pinatas are so much fun to make! They are colorful, made with supplies you probably already have laying around the house, and toddlers love when the candy falls out! If you wanted to fill the pinata with non-candy items you could add small toys, crayons, or fingerpaints.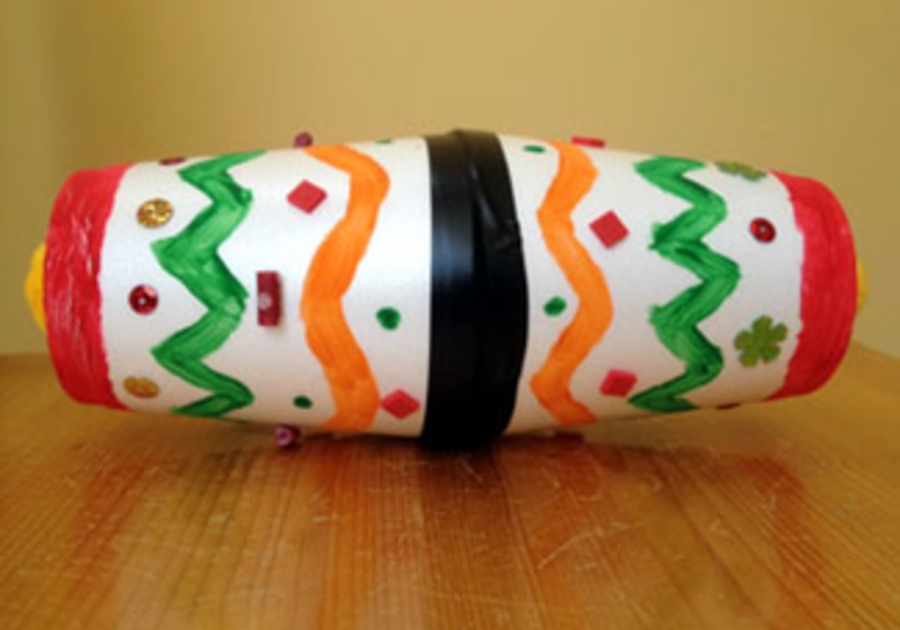 Let the little ones make music by using their DIY maracas! You can use either beans or rice inside styrofoam cups. Be sure to provide a variety of paints so the instruments are colorful. You can also have them glue on buttons, pom poms, or stickers!
Make your own Playdough in the colors of the Mexico flag while reading along with a book about the country's heritage. They can use the same colors to make Mexican food such as peppers, guacamole, and even pretend tacos!
These cactus hand puppets are cute and easy to make. Incorporate a lesson about Mexico's climate while kids are making crafts. All you need is some paper, brown paper lunch bags, glue, scissors, and a marker. Freehand the cactus cutout or use the template she provides.
It wouldn't be Cinco De Mayo without making a sombrero! These are perfect to keep kids entertained while you are having your own fiesta. Simply cut out the sombrero hat, then let them decorate with pom-poms, tissue paper, and other scrap pieces of construction paper.
Here's another flag-themed craft where your toddlers can make their own green, white, and red slime! This may be a little messy for them, but it's also a great craft if you have older kids as well. The supplies are fairly simple: food coloring, glue, and liquid starch. There's also a recipe for borax-free slime.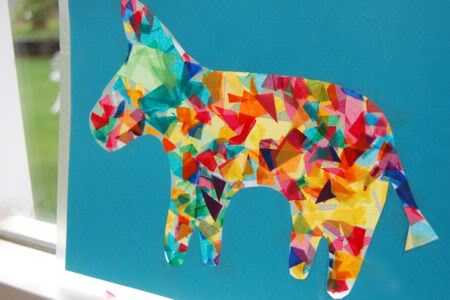 These donkey suncatchers use a piece of contact paper where the cutout is. So it's really easy for toddlers to make this craft by themselves and it's pretty much mess-free. Once you're finished, display it in a window for a colorful decoration.
Start saving your paper bags for the grocery stores so the little ones can make their own sarapes. Once you get the template cut, they can decorate with crayons, markers, paint, or add other embellishments if you have some around the house.
These are so much fun to make and something to keep them entertained while you talk about Mexican culture. All you do is wrap a paper plate in aluminum foil and let them create their own designs using Sharpie markers.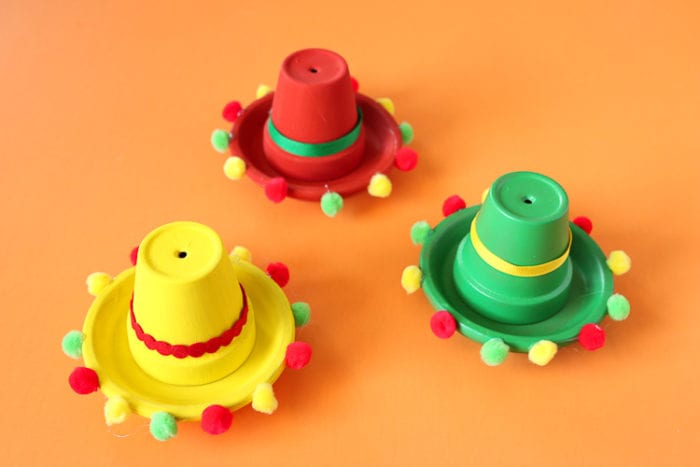 Mini sombreros are not only fun for kids, but you can use them for Cinco De Mayo decor! They make the perfect table decoration or use them to prop labels on for a taco or appetizer bar. You probably have most of the stuff you need around the house, but to make the tops you will need mini terracotta pots.
Balero doubles as a craft and a game that everyone will enjoy. While authentic baleros are made from wood, these are a mini version made with pencils, cups, string, and wooden beads. If the kids have the chance to play with these unattended, use pencils that haven't been sharpened yet.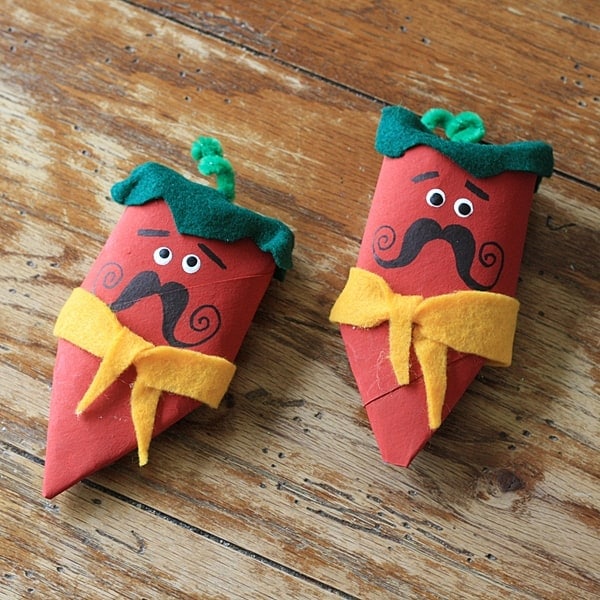 Spice things up by making maracas in the shape of chili peppers! Mom, the kids can use your help on this one as the folding is a bit complex. But, they can decorate as they please and have hours of fun once they are finished with the craft.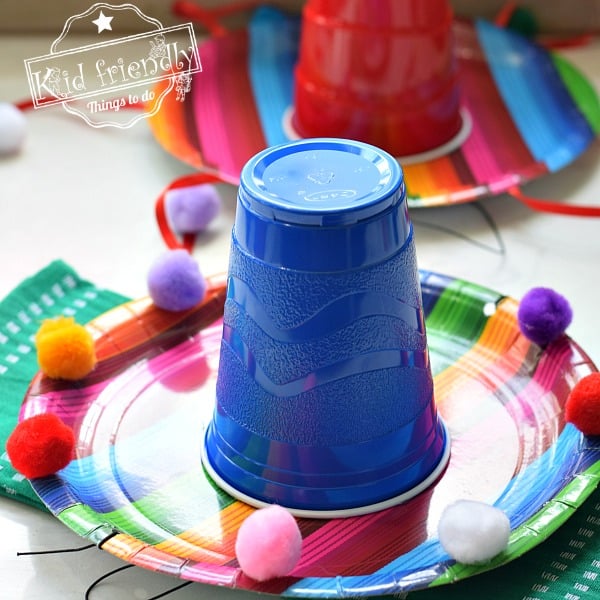 Let toddlers celebrate the holiday by making these adorable paper plate sombreros and wear them throughout the day. If you are hosting a party where there will be more kids, you can even have a sombrero show at the end so they can show off their creations. These do require hot glue, so kids will need a little assistance getting these together.
Making these cactus pictures add a little sensory awareness in because kids will use sandpaper and fingerpaint it. You can let them color in the sun, or make a yellow handprint. If you have pasta in the pantry, they can glue the noodles down as well.

The kids may not enjoy eating tacos, but they will definitely like making them out of paper. Create an imaginative taco bar with different condiments made from paper scraps. If they have a kitchen set, you can glue everything in place and they can reuse them again in the future next time they are cooking in the kitchen. If you don't want to use paint for the "hot sauce" you could cut small pieces of yarn instead.
We hope your Cinco De Mayo celebration is as fun as these festive toddler crafts are! If you are looking for more easy ways to incorporate learning, you can always pair these activities with books, sing-a-longs, or Mexican food. It's so fun to learn about different cultures and how they vary from ours. Another easy activity to keep them busy is coloring sheets and maybe even featuring a movie such as Coco or Encanto.
MORE CRAFTS AND ACTIVITIES FOR TODDLERS:
Easy Bug and Insect Crafts for Toddlers
15+ Simple Ice Cream Crafts for Toddlers!
14+ Butterfly Crafts for Toddlers
15+ Easy St. Patrick's Day Crafts for Toddlers and Preschoolers
15+ Printable St. Patrick's Day Crafts for Kids {you can print for free!}
10 Easy and Fun Flower Crafts for Toddlers
20 Cute Easter Crafts for Kids
15+ Adorable Bunny Crafts for Toddlers and Preschoolers {super cute!}
CINCO DE MAYO CRAFTS FOR TODDLERS